Rajinder Gupta, Trident group chief, is president of Punjab Cricket Association
Sep 25, 2017 11:15 AM IST
Rajinder Gupta heads the Ludhiana-based Trident Group, a $1-billion business conglomerate. He replaces DP Reddy as the new president of the Punjab Cricket Association
Rajinder Gupta, chairman of Ludhiana-based Trident Group, was unanimously elected president of Punjab Cricket Association in its annual general meeting (AGM) on Sunday. He takes over from Punjab-cadre Indian Administrative Service (IAS) officer DP Reddy. Trident Group is a $1-billion (Rs 600 crore) business conglomerate that has interests in textile and other sectors.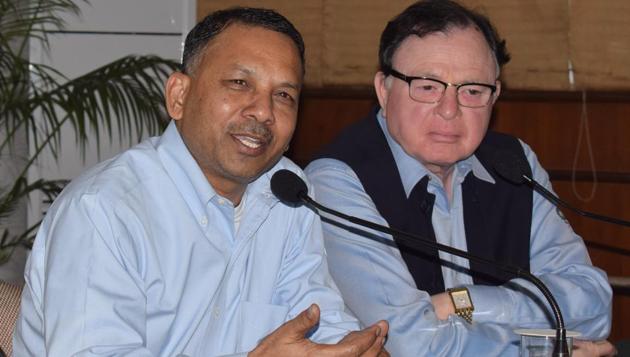 The Punjab Cricket Association also adopted all recommendations of the Lodha Committee with the body implementing the cooling off period and extending membership to all the international cricketers of the state.
"Age and tenure will be criteria henceforth in becoming office-bearers, while government servants have also been disallowed from becoming office-bearers," said newly elected secretary RP Singla.
The association release added that PCA elections were held after making amendments to its memorandum and articles of association in accordance with the recommendations of Lodha Committee and as accepted by the Supreme Court.
Former Ranji player Arun Sharma has been elected to the post of joint secretary. Sharma has also remained coach of the Punjab team. Ajay Tyagi will be the new treasurer, while Rakesh Rathour, Prof SM Verma and Amarinder Bindra, son of former PCA president IS Bindra, have been named vice-presidents. Dr AGS Bawa has been elected as joint secretary. As many as 85 members of the 182 attended the AGM.
Ajay Ratra appointed Punjab coach
Former Team India wicket-keeper Ajay Ratra has been appointed as the coach of Punjab Ranji team this season. "He fits the criteria and this has been done in consultation with both Yuvraj Singh and Harbhajan Singh. He will take over on September 26," PCA secretary RP Singla said. Ratra, who retired in 2015, played six Tests, 12 ODIs and 99 first class matches.