Cricket Zimbabwe opposed to ICC proposals, likely to strengthen BCCI stand
New Delhi |
HT Correspondent
Feb 26, 2017 11:43 PM IST
Cricket Zimbabwe Board chairman, Tavengwa Mukuhlani, says struggling national body opposed to ICC's proposal for two-tier Test system, plan to abolish full member status.
The Indian cricket Board, opposing the International Cricket Council's (ICC) proposals on finance and affiliation, seems to have got a shot in the arm with the Zimbabwe Board too raising objections.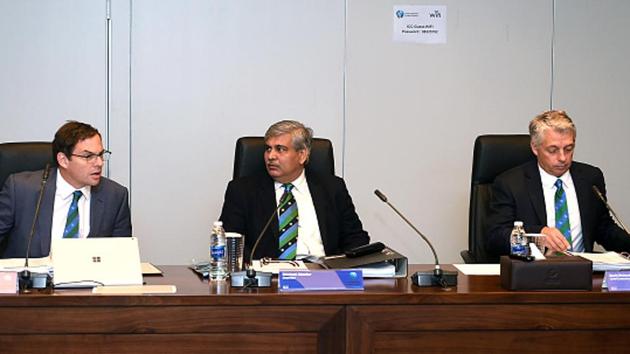 The Indian Board opposed at the ICC Board meeting at Dubai in February the world body's decision to recall the Big Three financial model piloted by the BCCI in 2014, allotting the lion's share of revenue to India, England and Australian Boards.
Only Sri Lanka had backed India in the meeting and ICC chairman, Shashank Manohar, said the decision to restore equality in revenue distribution was virtually a done deal.
The ICC Board is due to meet in April to ratify the decisions, but needs three-fourths of the 10 full member nations (eight) to back for the proposals to go through. Three members joining forces could queer the pitch.
ZIMBABWE AGAINST TWO-TIER FOR TESTS
Zimbabwe Cricket had abstained from voting in the ICC Board meeting. But ZC Board chairman, Tavengwa Mukuhlani, has been quoted by the Zimbabwe Independent daily as saying his struggling Board is opposed to the ICC proposal for a two-tier system for Test cricket. If that goes through, Zimbabwe could end up in the lower rung with Afghanistan and Ireland, who await promotion to Test status. India was among the Boards that opposed when the proposal initially came up last year.
Zimbabwe Board is also opposed ICC plans to do away with guaranteed full-membership after a review of governance, results and financial management.
"The proposals on membership are adverse to us and we will make our views known to the ICC," Mukuhlani told the paper. "We hope to get support from other progressive minds because what happens to us today will happen to another nation tomorrow."
CAN'T LINK WINNING TO MEMBERSHIP
"We are in agreement that funds should be well administered and there should be good corporate governance. But there are certain things you cannot make constitutional. For example, you can't say today you are not performing well so you are no longer a full member.
"To gain membership is a process, for example Afghanistan is doing well working towards attaining full membership, but if they were to lose form the year they gain membership, what would we do in that kind of situation? Strip them of full membership?
INDIA THE CENTRAL POINT
"The bulk of revenue in cricket comes from India at the moment. Let's say for some reason India have a dip in form and start losing, are we going to then say 'India, you are no longer a member', is that possible?"
"We agree we must compete and win, but that cannot be enshrined into the constitution."
He said Ireland and Afghanistan need time to develop and Zimbabwe can' be used to aid their improvement.
Mukuhlani claimed Zimbabwe abstained from the ICC meet as it didn't have time to study the proposals. "We should have guiding principles on the sharing of revenue, not to have figures that Zimbabwe gets so much in the constitution. What if the ICC funds shrink, how do we solve that?"
The BCCI is projected to lose anything between $180-190 million if the 2014 revenue proposals are reversed. The 'Big
INDIA WILL LOSE REVENUE
Three' were entitled to a certain percentage of the total revenue – 20.3% for BCCI, 4.4% for ECB and 2.7% for CA --- according to the old model. Along with this, the surplus was to be divided equally among all member associations.
The ICC moves are aimed at giving the parent body better control and take away the power of full members by giving equal weight of votes to all Board members.
The BCCI was represented by a member of its Committee of Administrators, Vikram Limaye, who sought time to take an "informed view on the said proposal."