'That actually set the cat among pigeons': Karthik says SL bowlers bowled to India star's 'reputation' during 2nd Test
Published on Mar 13, 2022 12:52 PM IST
The Indian wicketkeeper-batter says that Sri Lanka bowlers bowled to India star's "reputation" on Day 1 of the second Test in Bengaluru.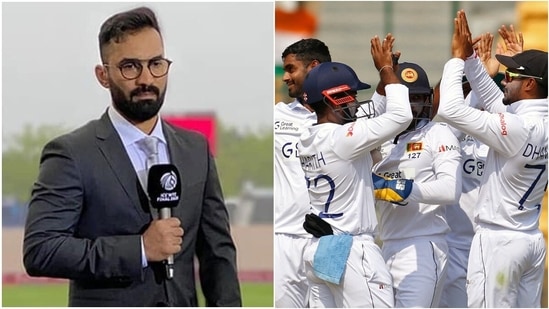 Team India was bowled out on 252 in the first innings of the second and final Test of the series against Sri Lanka on Saturday. Shreyas Iyer scored a magnificent 92, while wicketkeeper-batter Rishabh Pant chipped in with a key contribution of 39 off 26 deliveries on a difficult wicket to take India to a competitive score. At the end of Day 1, India left Sri Lanka reeling at 86/6.
Following the end of day's play, India's Dinesh Karthik talked about Pant's innings in detail. Karthik pointed out that Sri Lankan bowlers were playing to Pant's "reputation."
"We have seen that in Australia as well. When Nathan Lyon bowled, he bowled a slightly different line to Rishabh Pant. And that has got to do with reputation. Because they know he is a big hitter of spinners. What happens on those turning wickets is that when you're that much aggressive, the bowler is more defensive," Karthik said on Cricbuzz.
Also read: 'Dhoni's captaincy was complete opposite to what I thought': RCB captain Faf shares 'crazy' story of his CSK beginnings
The Indian cricketer further added that Sri Lankan bowlers missed a trick in not bowling quicker, insisting that Ravindra Jadeja and Axar Patel's pace makes them much more dangerous on turning wickets.
"One thing which Sri Lanka should've done is bowl slightly quicker. They tend to bowl at a speed that was comfortable in terms of the normal wicket but on a turning wicket, where the wicket is obviously helping the ball and oddball going straight, you need to be much quicker. This is why you see that on these kinds of wickets, Jadeja and Axar will always be a handful to deal with," said Karthik.
"But credit to Pant. He played a bit on the reputation at the start but he played some lovely shots. He played well within his game plan and that actually set the cat among the pigeons. Then Shreyas Iyer took over the mantle."
Personalise your news feed. Follow trending topics