England vs West Indies 1st Test Day 3 highlights: England 15/0, trail West Indies by 99 at stumps
England vs West Indies1st Test Day 3 at Southampton: Follow live cricket updates of England vs West Indies 1st Test Day 3.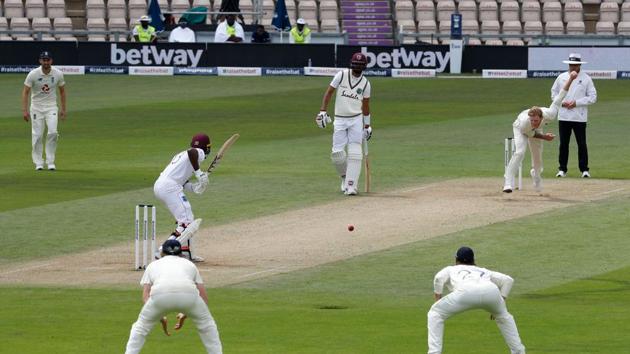 Updated on Jul 12, 2020 01:22 AM IST
Hindustan Times, New Delhi |
hindustantimes.com
England vs West Indies 1st Test Day 3: England bowled out West Indies for 318 in the final session of Day 3 of the first Test match at Southampton. England went to stumps at 15/0, trailing West Indies by 99 runs. Earlier, Shane Dowrich (61) and Kraigg Brathwaite (65) struck half centuries for West Indies while England captain Ben Stokes took for 4 for 49 to return as the most productive English bowler. James Anderson was pretty good too. He picked up 3 wickets for 62 runs.
Follow live score and updates of England vs West Indies Live score 1st Test Day 3:
23:25 hrs: That's stumps on Day 3! It has been West Indies' day, it will be safe to say. England are at 15/0, still trailing West Indies by 99 runs.
23:06 hrs: Gabriel and Roach are giving a hard time to Sibley and Burns. They somehow have managed to keep their wicket intact for the first four overs. Not too long before the umpires call for stumps. They have to see off this period.
22:50 hrs: The England openers Dom Sibley and Rory Burns are out in the middle. This is going to be tricky period for them to negotiate.
22:38 hrs: BOWLED! Mark Wood gets through the defences of Shannon Garbriel. West Indies have been bowled out for 318, they lead England by 114 runs.
22:25 hrs: BOWLED! Wicket No. 150 for Ben Stokes. He is the second fastest to 150 Test scalps and 4000 runs. West Indies eight down.
22:15 hrs: Consecutive FOURS! It comes from Alzarri Joseph and West Indies' lead reaches the three figure mark. This will hurt England. Crucial lower-order runs these from Joseph.
21:58 hrs: OUT! Ben Stokes get one back at Jason Holder. The bouncer took Holder by surprise. The West Indies captain failed to manage any control on the pull, top-edging it in front of Archer who was alive to the catch at fine leg.
21:50 hrs: Flicked to deep midwicket, and with a couple of runs, Shane Dowrich brings up his fifty - taken him 91 balls to get there with seven boundaries. West Indies 276/6, ahead of England by 72 runs. Drinks have been called for.
21:30 hrs: Wicket! Anderson gets his third as Chase is out LBW for 47. The ball crashed onto Chase's back leg and although the initial decision was not out by umpire Richard Illingworth, it looked close enough for England to review the call. No bat and the replay showed the ball crashing into middle and leg. Stokes and England strike with the review, West Indies lose their sixth for 267. The partnership ends on 81.
21:15 hrs: Crisp boundary by Dowrich. Anderson strays onto the batsman's pads and he is set enough to punish a rare loosener from Jimmy. Dowrich growing in confidence and inching towards a half-century. The partnership has reached 81 between him and Chase.
21:12 hrs: Couple of nasty of bouncers from Archer. That will wake up Dowrich and push him deep into the crease. But still not consistent enough from England to put West Indies under pressure.
21:03 hrs: FOUR! Another leg stump half volley from Archer, easy pickings for Chase. This is not goo at all from Archer. 250 up for West Indies.
21:01 hrs: FOUR! A leg stump half volley from Archer and Chase stands tall and strokes it through the vacant on side and watches it race away to the boundary. Nasser Hussain in commentary says: "Chase is incredibly balanced for a tall guy."
20:48 hrs: FOUR! Not the start England and Anderson would have wanted. But full marks to Chase for playing a beautiful drive off the very first ball after Tea.
20:45 hrs: We are back for the final session. England would hope James Anderson could some magic with the second new ball, otherwise West Indies can very well set the pace in this Test.
20:28 hrs: That's tea on Day 3. West Indies have reached 235 for 5, leading England by 31 runs.
20:12 hrs FOUR! Confident shot from Dowrich. He has had enough of the peppering from Wood. The moment he gets width to free his arms, he lashes on to it. Dowrich is playing a little gem. He is on 30 off 38 now. Needs to carry on and get a big one.
20:07 hrs: DROPPED! It was hit very hard by Shane Dowrich. Bess got a hand to it but the force was too much. It popped out and went towards the mid-on fielder. These catches either stick or they don't. The rub of the green goes Dowrich's way.
19:54 hrs: FOUR! Leg byes. Wood strays down the leg side and it clips off Chase's pads. No chance for Buttler, it races away for 4 leg byes. West Indies 225/5.
19:35 hrs: A single from Chase and West Indies have taken the first innings. very important in the context of the game. Ideally they would want to take lead of at least a 100 to challenge England's batting in the second innings.
19:16 hrs: FOUR! Another attacking strike from Dowrich. But completely in control. A tossed-up delivery outside off, Dowrich makes room and goes over the in field.
19:13 hrs: FOUR! Dowrich shows exactly how you should charge down the pitch to a spinner and then hit him over the top. Similar kind of delivery from Bess, a bit straighter this time. Dowrich dances down the track, gets to the pitch of the ball and lofts it over mid-on for a boundary.
Right-handed batsman Shane Dowrich comes in at No.7
19:06 hrs: OUT! Blackwood what have you done? He has just thrown his wicket away. A normal length delivery from Bess, Blackwood dances down the track, tries to hit it over mid-off but deosn't get to the pitch of the ball and finds the mid-off fielder, who takes a simple catch.
18:58 hrs: FOUR! A very good shot from Blackwood. If you can play like that then why go for those mid-wicket slogs? Anyway, a full tossed up delivery from Bess. Blackwood gets a good stride in and drives it confidently through the covers.
18:53 hrs: Oh Lord! Blackwood is leaving dangerously to say the least. He gets an inside edge past his stumps for a boundary and then goes for a heave over mid-wicket. Luckily the top edge lands just away from the fielder, allowing him to come back for a couple.
18:50 hrs: Maiden from Bess! England building pressure form both ends now. Bess has been simply brilliant since lunch. He has got Chase bogged down at one end. This is an important period of play.
Right-handed batsman Jermaine Blackwood is the new man in
18:42 hrs: OUT! A waste of a review from Brooks. You have to know whether you have nicked it or not don't you? He consulted with his partner and went for the DRS and replays showed a clear spike. An end of a promising innings for 39. A beauty of a delivery from Anderson. perfect length, perfect line, it just shapes away from the batsman and catches the faintest of tickles on its way to the keeper. A big wicket for England. West Indies: 173/4
18:39 hrs: A single! Roston Chase finally manages to get off strike against Dom Bess. He needed that single more than anything else.
18:23 hrs: FOUR! Shot from Brooks. He shows he is equally pleasing to the eye off the backfoot too. Slightly short and wide from Anderson, Brooks rocks back and rides the bounce to stroke it all along the ground. No point chasing that one. West Indies 167/3 after 50 overs.
18:18 hrs: The first two overs after lunch have gone for 4 runs. Brooks and Chase ave dealt with Anderson and Bess rather easily.
18:10 hrs: The Players are out in the centre. Looks like it will be James Anderson who will start the proceedings after lunch.
17:32 hrs: That's Lunch on Day 3, West Indies have scored 102 runs at the lose of 2 wickets in this session. Honours shared one have to say but West Indies definitely have their noses in front.
17:30 hrs: FOUR! Shot of the day easily. Roston Chase is so easy to the eye when he is on song. Wood runs in, bowls at 90 mph and Chase gets a big stride forward and punches it through the vacant region with all authority. West Indies 159/3 after 47 overs.
Right-handed batsman Roston Chase comes in at No.5
17:08 hrs: OUT! Brathwaite goes but West Indies keep the review as the impact and wickets hitting was umpire's call. Brathwaite has to go for a well-made 65. But what a comeback from Stokes. He was hit for three fours in the over, then suddenly gets to one jag back in from the good length, it wraps the WI opener on his pads. The height may been a question but Kettleborough raises his finger. West Indies 140/3
17:06 hrs: Three FOURS in five balls! First one fine through the on-side, the other one courtesy a confident drive through the covers and the last one again past fine-leg. Brathtwaite shows his class. Something to think about for Stokes.
17:02 hrs: FOUR! A punch through mid on and it races away to the boundary. Super shot from Brooks. Nothing wrong in the delivery, it was just the calibre of Brooks.
16:54 hrs: Two fours from Brooks' bat. He really looks to be a positive cricketer against spin. He has raced to 18 off 19 balls. Bess pitched it outside off stump and Brooks drove it through the covers on both occasions.
16:46 hrs: FIFTY for Brathwaite! His 18th one in Test cricket. This has been a gritty innings from the opener, nothing unusual from the majority of his innings.
16:41 hrs: FOUR! A full toss from Archer. He was trying the yorker after the bouncer but Brooks was up for it. He just drives past mid on to collect his first boundary.
Right-handed batsman Shamarh Brooks comes in at No.4
16:37 hrs: OUT! Not this time, no DRS, no overstepping and Shai Hope has to go. A typical off-spinner's dismissal. Dom Bess picks up his first wicket. Tossed up wide outside off stump, enticing the batsman to go for the drive, the ball drifts and gets the outside edge of Hope's bat. West Indies 102/2
16:30 hrs:Out! DRS, oh wait Archer has overstepped! Drama at Ageas Bowl. Archer had trapped Shai Hope right in front with a vicious nip-bakcer umpire had no doubt in his mind. Hope decided to go for the review and before we could even go to the ball-tracking, replays confirm Archer has overstepped. It's a no ball.
16:16 hrs: Three bouncers, a couple of them very well directed from Archer. His pace still not up to normal standards but there was a lot of venom in those short deliveries. Good contest this.
16:11 hrs: First sign of spin and Dom Mess did get the one to turn slightly. Can't help but predict a good enough role for Bess as this Test match progresses. If it stays bright and sunny like this then this pitch will be a lot different on Day 4 and 5.
16:07 hrs: Jofra Archer's first over goes through without any noted action.His pace was well below the 85 mph mark. Maybe just warming up, at least England would like to believe that.
15:58 hrs: FOUR! A nice backfoot punch from Brathwaite. A bit of width from Wood and the right-hander was ready for it. Productive over for West Indies, 11 runs coming from the over. This also gives an idea of the slowness of the pitch, Wood was once again well over 90 mph but was a tad short, that allowed both Hope and Brathwaite to get onto the backfoot and punch it.
15:50 hrs: No a single delivery under 90 mph from Mark Wood in this over. His fastest ball was the second one where he touched 95.1. This is some serious pace from the right-armer. You could see Hope getting a tad late on a t least a couple of occasions.
15:45 hrs: A maiden from Anderson. He beat Brathwaite once on the outside edge and then hit him on the pads too. Anderson is really giving a work out to the Windies batsmen.
15:33 hrs: England lose a review! There was daylight between bat and pad but England went for the review and the replays confirmed that the ball had actually flicked Brathwaite's trousers before resting on Buttler's hands. A good delivery from Anderson nonetheless.
15:30 hrs: Runs straightaway! A thickish outside edge from Brathwaite's bat allows him to go to the other end.
15:29 hrs: Bright sunshine greets us for the first time as West Indies batsmen Shai Hope and Kraigg Brathwaite make their way into the centre. It will be Mark Wood to start the proceedings on Day 3 for England. He will bowl three deliveries to complete his over.
15:20 hrs: 57/1 is actually not a poor start by any means, especially if you consider the overhead conditions, a bowling attack comprising James Anderson, Jofra Archer, and Mark Wood to deal with. Shai Hope and Kraigg Brathwaite will again have a job on their hands.
15:00 hrs: An intriguing day awaits. West Indies are on top. One of their greatest players of all time, Brian Lara, in his interaction with Sachin Tendulkar, stressed on the importance of West Indies batsmen spending time at the crease. Will they listen to Lara? We shall find out.
14:30 hrs: Key players on Day 3: England will look to rely upon Anderson and Mark Wood to provide them early breakthroughs. Shai Hope and Brathwaite will be key for Windies in the batting department on Day 3.
14:20 hrs: Sachin Tendulkar's big praise for James Anderson: "With reverse swing, Jimmy Anderson was possibly the first bowler who bowled reverse swing also reverse, What I experienced, over a period of time, [is] that he would hold the ball as if he was bowling [a reverse] outswinger, but [at] the release point, he would try and bring the ball back in, and [a] number of batters would look at the wrist position, and what he has actually done, he's shown you that he's bowling inswing, but the imbalance between both sides of the ball would take the ball away from you. What he has done is, he's got you to commit to play, for an [inswinger], and the ball, after covering almost three-fourths of the length of the pitch, starts leaving you. But you had already committed [to play], because you've seen that inswing position, and that is something which was new to me. Nobody had done that. Now, [a] number of guys, you see their shine, and what they're trying to do - I spotted even Stuart Broad trying to do that at some stage, but Anderson started this [a] long time ago. So I rate him very very highly. One of the best exponents of reverse swing." READ MORE
14:10 hrs: Jason Holder sets sights on a new target: "My Test match is far from over. I've still got a massive contribution to make with the bat, and that's where my focus is going to be channelled now in this innings. One of the things I've always strived to do… was to score a hundred in England and to take a five-wicket haul here. I've ticked one box so far, so I guess it's now left for me to knuckle down and try to get a hundred," Holder said to ESPNCricinfo.
14:00 hrs: England Cricket Team has honoured four India-origin healthcare workers during the first Test against West Indies in Southampton. One of the doctors nominated in the 'Raise The Bat' campaign was Dr. Vikas Kumar. He works at the critical care unit of a National Health Service (NHS) Trust hospital at Darlington in Durham. "It was overwhelming to see Stokes and others putting that message out. It's been very difficult for all of us. NHS staff have made a lot of sacrifices. This recognition is for the entire medical fraternity, including my doctor friends in India," said Kumar as quoted by Indian Express. READ MORE
13:50 hrs: Michael Holding breaks down while speaking about racism in an interview to Sky News: "To be honest, that emotional part came when I started thinking of my parents. And it's coming again now. "Mark, I know what my parents went through. My mother's family stopped talking to her because her husband was too dark. I know what they went through, and that came back to me immediately," he said in tears. READ MORE
13:40 hrs: Jason Holder on racism: "It meant the world to me. Just the support from everyone, everyone understanding the moment, everyone understanding the occasion. And to see both teams coming together the way they did, it sent a really strong message," Holder told 'Sky Sports' on Thursday. "I happened to be on social media last night, and I saw a few Aussies posting the same pic of everyone on the knee, and it just shows the cricket world is actually unified. But I think we could come a lot closer, we could do a lot more for cricket in general." READ MORE
13:30 hrs: Hello and welcome to our live blog on Day 3 of the first Test between England and West Indies in Southampton. While the first day was largely hampered by the rain, the second day has provided a great story to be written. Jason Holder was the star figure as he rattled England's weak batting order. Windies, who finished at 57/1 on Day 2 at stumps, have a real chance on Day 3 to put on a good total on board. England need wickets to bring themselves back in the match.
Close Story
Personalise your news feed. Follow trending topics