'Hardik backs himself to be the best in the world': David Miller
Jan 06, 2023 11:24 AM IST
South African power-hitter David Miller looks to draw inspiration from his Gujarat Titans experience while leading in the SA20 league.
David Miller and Hardik Pandya locked in a bear hug in the middle of Eden Gardens, one step away from masterminding a fairy-tale inaugural IPL season for Gujarat Titans. It was one of the lasting images of IPL 2022. The South African big-hitter smashed three sixes in the first three balls of the final over, his team requiring 16 off the final over in a close run-chase for a place in the final. Looking on from the other end was Miller's captain Pandya, as the duo had scripted a 106-run unbeaten winning partnership against Rajasthan Royals.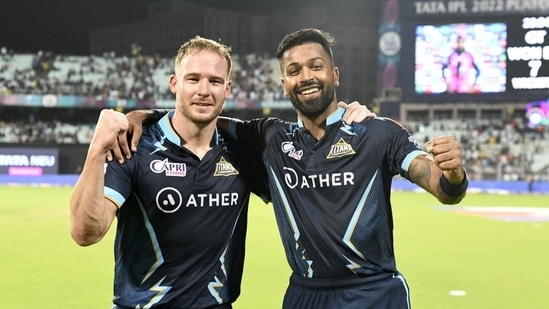 For Miller and Pandya, both of whom had seen the highs of international success and the lows of poor form, IPL 2022 gave a second wind to their respective careers. The mutual respect for each other's abilities is here to stay.
"It will remain one of the biggest highlights of my career. To win the IPL trophy is something I have always wanted to do. Led by Hardik who is a natural leader. He led from the front and had a great presence and aura about him," Miller said in an interview ahead of SA20's first season. "We were the underdogs, the whole way through. We were rated one of the worst teams and we managed to compete in every single game, in every phase of the game."
If Miller's big-hitting ways were seen as being on the wane before the last IPL, Hardik would make news for the wrong reasons. Miller says he understands the secret of Hardik's success better than he ever did. "It was great to get to know him off the field, he is a kind and caring guy… incredible off the field. A family man. Having a child changes one's mindset toward life. He has matured into a great cricketer."
"He has always been a match-winner. He has set the world alight for so many years. But he is more secure as a player and a leader. His mindset is a lot stronger than ever before. He backs himself and thinks he is the best in the world. That's an approach everyone needs to have to compete and he's certainly got that."
Since last year's IPL, Miller has led his national team and Hardik, currently India's T20 captain is seen as the man who could be shoulder the responsibility for the long term.
"Hardik deserves everything that comes his way," said Miller. "Being asked to be the Indian captain is a massive honour and he is definitely going to be doing the best he can. I have no doubt that he is going to be very successful. It's exciting to see someone grow into that role, having being a small part of that journey."
No room for indecision in T20
The South African is keen to draw on GT's winning IPL campaign when he leads the Paarl Royals on the park in SA20.
"The results can get up and down in T20. You can have a really strong team losing to a team which may not be as strong on paper. So, whichever team is up for the game on the day takes it in T20 cricket," he opined. "For me, it's about committing towards whatever shots you want to play and whatever balls you want to bowl. A lot of guys can doubt their plans and execution and it's often the downfall."
Miller will have the experience of Jos Buttler and Eoin Morgan to lean on to take his team forward in the home league. This, he thinks will also help South African white-ball cricket in the long run.
"I look at all the other leagues around the world and what it has done to their cricketers. It's just high competition and mixing with overseas players. You can only improve. We have been waiting for it for a couple of years and we are happy that it is finally taking off. This competition will definitely fast-track the learning of the (younger) guys at the higher level."
Enjoy unlimited digital access with HT Premium
Subscribe Now to continue reading