How Sachin Tendulkar helped Indian wheelchair cricket team realise its dream
Sachin Tendulkar contributed financially to fund the tours of the Indian wheelchair cricket team.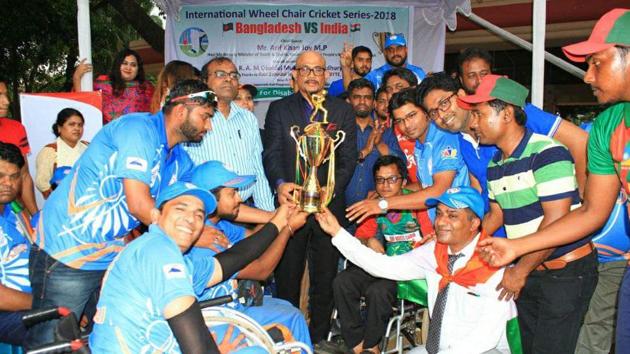 Updated on May 14, 2018 07:01 PM IST
Press Trust of India, New Delhi |
Press Trust of India
Life can be harsh and test someone's willpower with all its severity. But if there is perseverance, it can force open the doors also.
Ask Somjeet Singh or squadron leader Abhay Partab Singh.
READ | IPL 2018: First Sanju Samson, now Jos Buttler carrying Rajasthan Royals' play-off hopes
They are part of an Indian cricket team -- the Indian wheelchair cricket team, which successfully completed its first international tour of Bangladesh. It was their dream to wear the national jersey but they also needed a dream merchant.
Enter Sachin Tendulkar, who knew how it feels to wear that blue jersey.
A month back, 36-year-old Pradeep Raj, who is the secretary of the Wheelchair Cricket India (WCI), was trying to raise funds to the tune of ₹6.5 lakh so that the Indian team could travel to Bangladesh for a bilateral series.
It was then the idea of writing to Tendulkar crossed his mind.
"Despite my best efforts, I could only get only one sponsor, who gave ₹2 lakh. I had knocked many doors for our wheelchair team but to no avail. I had Sachin sir's email address as during my days as a para-athlete (he was a cricketer and then a para TT player), I had e-mailed him. This time also I mailed Sachin sir asking for help," Raj told PTI during an interaction.
"To my pleasant surprise, his office got in touch with me within three days and in next few days, he donated the outstanding ₹4.5 lakh. Without his help, the Indian Wheelchair cricket team would have had to cancel their trip to Bangaldesh. The financial help provided by him went a long way in booking air tickets for the 19-member team," Raj said.
READ | IPL 2018: Shane Warne sees bright future for Sanju Samson, Rishabh Pant
"Also from the balance amount, we were able to give each cricketer ₹10,000 as series fees. BJP MP and noted Bhojpuri actor Manoj Tiwari also donated ₹10,000 each to the players. So for the first time, Indian players got ₹20,000 each for playing a tournament," Raj said.
The Indian team beat Bangladesh 2-0 in the three match series.
"The matches were held in Dhaka and the first one was a wash-out due to rain. We won the next two matches. This is the second time that wheelchair team has played an international series. Last time, we had invited Bangladesh in Delhi," Raj informed.
For him more than the money, someone like Tendulkar throwing his weight behind the physically challenged athletes is a big plus.
"We know that association for the visually challenged cricketers have appealed to BCCI for support. We have a committed bunch of cricketers, who have survived biggest of tragedies to come this far. If we get the support of the establishment, it will help all these people have a second shot at career," Raj appealed.
In wheelchair cricket, the matches are held in T20 format. They are trying to use lighter balls (used for women's cricket). If the wheelchair is used by batsman to obstruct a delivery, then he is adjudged lbw. The boundaries are at 45 yards.
"In the Indian team, there are different stories. There are players, who have had their legs amputed because of road accidents. We have players, who are paralysed waist down. There are a few who have been affected by polio. They have come from all parts of the country, appeared for trials and got selected. We organised a national tournament last year and champions were rewarded with cash prize of ₹50,000," the secretary said.
READ | MS Dhoni, Dinesh Karthik and other Indian wicketkeepers make a statement in IPL 2018
Raj's own story is no less fascinating. While he still competes in para-TT events, he is the heart and soul of wheelchair cricket movement in India. Para-Sports has not only given him a goal in life but it also gave him a life-partner-- his wife Suvarna, who herself is a para-athlete.
"We met in 2006 during a National Para event. She was a powerlifter then. We got married in 2008. She now plays wheelchair TT and also champions cause for wellbeing of para-athletes. I am currently working as a consultant on office building projects. My job is to provide solution as to how physically challenged people can have an easy access inside the buildings," he signed off.
Close Story
Personalise your news feed. Follow trending topics