India, Pak agree to play series in Lanka; MEA clearance awaited
Updated on Nov 26, 2015 04:29 PM IST
India and Pakistan will play a short limited-overs cricket series consisting of three ODIs and two T20 matches in Sri Lanka in December-January, subject to clearance from the Indian government's Ministry of External Affairs (MEA).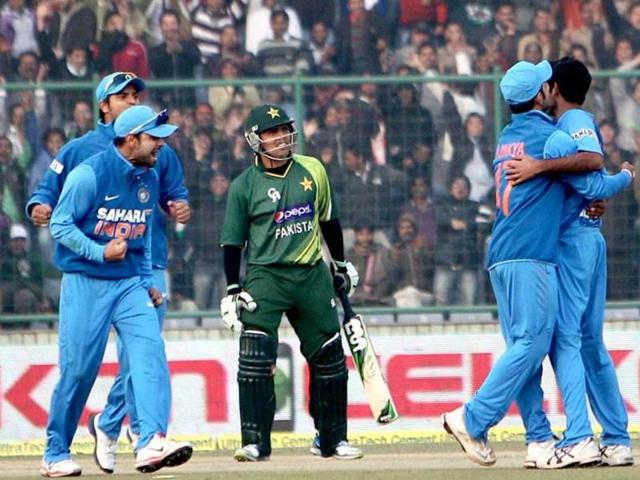 Hindustan Times |
, New Delhi
HT Correspondent
India and Pakistan will play three ODIs and two T20 matches in Sri Lanka in December-January if the ministry of external affairs clears the series.
Pakistani news channel Geo TV earlier reported that Pakistan Prime Minister Nawaz Sharif had permitted the country's cricket team to play a series with India at a neutral venue, clearing the decks for the bilateral tournament in Sri Lanka later this year.
Geo TV quoted sources saying the Pakistan Cricket Board (PCB) received a letter from Sharif permitting the cricket team to play either a T20, ODI or Test series with India at venues in the island nation that would serve as Pakistan's 'home venue'.
Read | PCB seek clearance for India series at 'unspecified' neutral venue
Both developments come after months of deadlocked talks, with rapidly deteriorating diplomatic relations between the two nations dimming chances of reviving cricket ties that were snapped after the 2008 Mumbai terror attacks.
A meeting between the Board of Control for Cricket in India (BCCI) president Shashank Manohar, who was in Dubai in his capacity as the chief of cricket's world governing body, the International Cricket Council (ICC), and PCB chairman Shaharyar Khan earlier this month had fuelled the possibility of a bilateral tournament, with Sri Lanka as the likely neutral venue. The meeting was organised by England and Wales Cricket Board chairman Giles Clarke, who heads the Pakistan Task Force of the ICC.
Read | BCCI chief Manohar meets Shaharyar, discusses Indo-Pak series
But weather can play spoilsport, with heavy rain forecast in the island nation during most of December.
The PCB signed an agreement with the BCCI to play six bilateral series between 2015 and 2023. It claimed the Indian board agreed to play the first one in the UAE, which has served as Pakistan's home venue after the 2009 Lahore terror attacks stopped international teams from travelling to the country over security concerns.
After a lot of uncertainty, the BCCI insisted it would play only in India but the Pakistani government denied permission to its board earlier this month.
Read | No question of playing Pakistan's 'home' series in India: PCB chief
As reported earlier in HT, the BCCI is looking at playing the first ODI on December 20 and the last T20 on January 3. This is the only window available as India travel to Australia for a one-day series starting on January 12.
Read more:
Pakistan says no to cricket series with India, cites security issues
Pak interior minister calls for cricket boycott against India
India-Pak cricket series: England likely venue for Tests next year
Personalise your news feed. Follow trending topics