India vs England, 3rd Test: After the fight, the rapid fall in Headingley
Cheteshwar Pujara falls for his overnight 91 and Virat Kohli for 55 as India capitulate against the new ball on Day 4; England level series with innings win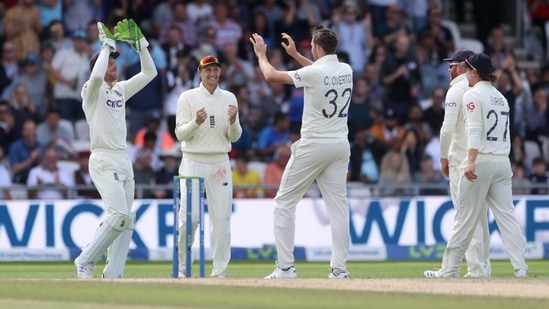 Updated on Aug 28, 2021 11:58 PM IST
The scoreboard does tell a story. Not anecdotal, and there is no scope for riders that may give a player the benefit of doubt despite unflattering returns. There is nothing flexible about the numbers that brought about a swift end to the third Test at Headingley on Saturday. James Anderson returning 8-5-6-3 as India were dismissed for 78 after choosing to bat, with scores of 19, 0, 1, 7, 18, 2, 4, 0, 8, 0 and 3, extras (16) being the third highest contributor to this embarrassment.
In the second innings, Rohit Sharma dropped anchor for a vigilant 59, Cheteshwar Pujara too kept the hosts at bay with a significantly aggressive 91 and Virat Kohli finally scored his first fifty of the series (55). But it all came to a naught on Saturday morning. India lost eight wickets for 63 to capitulate by an innings and 76 runs. England levelled the series 1-1 with two more Tests to go at The Oval and Old Trafford.
ALSO READ | India vs England 3rd Test Day 4 Highlights
And now some damning facts. The last time Kohli, Pujara and Ajinkya Rahane scored a century was in Nov 2019, January 2019 and December 2020 respectively. Rishabh Pant aggregates 87 from three Tests in this series, his lowest since debut across every rubber with at least three games. Since January 1, 2019, India's top five average 33.85 per batsman in the first innings of every away Test. In the same time, England averaged 36.73, Pakistan 36.71, Australia 44.2 and New Zealand 50.2.
Kohli summed up the defeat as a result of "scoreboard pressure". Be sure terms like 'intent' and 'application' will be thrown around in the coming days. But for a team that appraises players on current form, India can look back at the Headingley Test and might feel Pujara and Kohli have redeemed themselves. Rahane too is off the hook when you include his gritty second-innings 61 at Lord's. Openers KL Rahul and Rohit have been exceptional. So, how do they improve their batting with only four days to go for the next Test?
Unless you are Virender Sehwag or Adam Gilchrist, Test match batting is akin to walking the tightrope; checks and balances one need to be mindful of while keeping an eye out for the 'scoring' balls. Deduct the minutes spent leaving the ball in the first session, seeing out a particularly threatening spell or downing the shutters just before lunch or tea and a batsman is left with very little time to make an innings work. What risks a drab and monotonous look is a batsman having to repeat that process the next day, irrespective of whether he is unbeaten on a fifty, hundred or double hundred.
Headingley demanded that tenacity on Saturday but few in world cricket can do that right now. India too don't seem to have that character. Rohit hasn't found the final gear despite putting in the hard yards. Pujara comes close but it takes him some time to come out of his shell. Rahane has been mysteriously dropping out and popping up on the radar since Boxing Day 2020 while Kohli is slipping up possibly due to a technical glitch.
More games are decided now and runs are scored at a quicker rate than ever but some basics haven't changed in over a century of Test cricket. More balls faced still facilitates high scoring but only Joe Root has ticked that box consistently for the three Tests to be the leading scorer in the series with 507 runs. The England captain has faced 826 balls, Rahul 590 balls, Rohit 583, Pujara 456, Kohli 277 and Rahane 253. But no one is facing a crisis like Kohli, who could probably see this as 2014 all over again; all five of his dismissals this series are caught—either by the wicketkeeper or in the slips.
Playing well down the pitch to negate the swing had proved productive in 2018, but Kohli is probably becoming too inflexible by not making the best use of the crease and forcing the bowlers to change their lengths. Anderson and Ollie Robinson are not express so there is plenty of opportunity to rock back and punch or square cut them like Root did during his hundred at Headingley. Kohli's obsession with playing the drive may be preventing him from lending more variety to his shot-making. As proud as they come, Kohli may still try to force the issue but India need a quick solution.
This is where India typically go on their back foot and choose an extra batsman, but Kohli will have none of that. "I have never believed in that balance," Kohli said in the post-match press conference. "You can either try to save a defeat or try to win the game. We have drawn games in the past with a similar number of batters in the team. So, if your top six or seven don't do the job, that extra batter is no guarantee of bailing you out every time."
But India will have to find ways to muster more runs from their top-five since Pant is bent on not hanging back and constructing an innings patiently. Possibly the flattest pitch awaits India at The Oval so this is a good time for a relook, especially at the requirements that merit selection.
Ravichandran Ashwin not making the cut three Tests in a row—this has to be some sort of a record—because Ravindra Jadeja is perceivably a better batsman is a weak argument. Is there a need for four pace bowlers? Possibly no. Not since July 2016 (North Sound, Antigua) has Ishant Sharma gone wicketless when he has bowled at least 10 overs in a Test away from home. So, it may be wise to give him time to regroup and call back Ashwin. That call has the potential to solve two problems with one player.
Close Story