India vs New Zealand, 2nd Test, Day 1 Highlights: As it happened
Hindustan Times |
HT Correspondent
Feb 29, 2020 02:03 PM IST
India vs New Zealand, 2nd Test, Day 1: Follow highlights from Day 1 of the second Test match between India and New Zealand in Christchurch.
As it happened: Tom Blundell and Tom Latham helped New Zealand reach 63/0 to put them on top in the match. Earlier, there were three half-centurions in Indian innings but none could convert it into a big one as they were bundled out for 242 in the first essay. Prithvi Shaw, Cheteshwar Pujara and Hanuma Vihari slammed fifties but rest of the batsmen failed to get going as Kiwis bowlers came out on top once again. Kyle Jamieson picked up his maiden five-wicket haul while Tim Southee scalped two crucial wickets.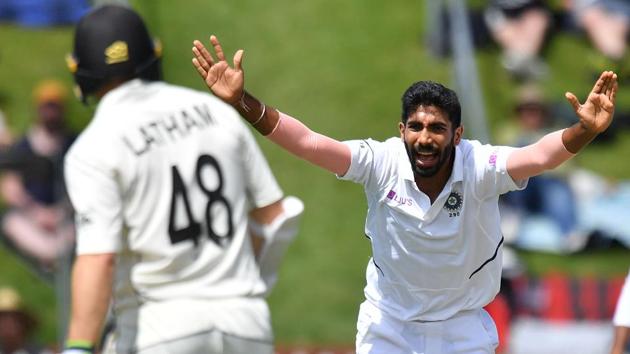 Follow India vs New Zealand Highlights, 2nd Test, Day 1 here -
Stay tuned with breaking news on HT Channel on Facebook. Join Now
Click to join.
12:20 hrs: Stumps! Shami concedes four runs in the last over of the day as New Zealand end day at 63/0, trail India by 179. It was a perfect day for the hosts as they managed to dismiss India inside 250 and didn't lose a single wicket while batting.
12:15 hrs: Stat attack! Only 2nd fifty plus stand between Blundell and Latham. 1st fifty plus stand for opening wicket by NZ after 3 intervening innings. 1st fifty plus stand for opening wicket by NZ against India after 3 intervening innings. 1st fifty plus stand for opening wicket by NZ at home after 6 intervening innings.
12:011 hrs: Jasprit Bumrah replaces Mohammed Shami into the attack and he gives away two runs off it. Latham and Blundell aren't playing risky shots and are contend with seeing out the day.
12:05 hrs: Bowling change! Some spin to face for the Kiwis before the end of the day as Ravindra Jadeja comes to bowl for the first time. India hope to pick up a wicket to end the day on a high. Jadeja concedes
12:00 hrs: Partnership! The fifty run stand comes up between Tom Blundell and Tom Latham. New Zealand are finishing the day on a good note but same cannot be said about the visiting team,who seem to struggling to pull things back.
11:55 hrs: Four! Blundell is doing his job really well out there. He is frustrating the Indian bowlers and then when he sees it, he hits the bad balls for boundaries. His fourth four comes off Umesh Yadav towards mid wicket.
11:50 hrs: Four! Second boundary of the innings for Latham as he punches the ball off the backfoot for a four towards point. The partnership between these two have crossed 40-run mark now.
11:44 hrs: Frustrating times these for India as they still wait for the first wicket. Blundell and Latham have kept the Indian bowlers at bay with their good partnership. If they remain unbeaten at stumps, it will be the perfect day for the Kiwis.
11:39 hrs: 14 overs have been bowled and still no wicket for India. According to Cricbuzz, this is the longest India have had to wait for the first wicket with the new ball since January 2019.
11:34 hrs: Another excellent over from Umesh Yadav as he gives away just 1 run off it. He has bowled five overs, conceded 9 runs including one maiden. But India would want him to pick wickets sooner than later.
11:29 hrs: Latham and Blundell are building a good partnership and they have already added 35 runs off 72 deliveries. India have used three pacers thus far but none of them have been able to provide the breakthrough.
11:23 hrs: Bowling change! Mohammed Shami comes to bowl for the first time today and he gives away just one run off it. 10 overs have been bowled and India still searching for their first wicket.
11:18 hrs: Edge and four! Latham, for the second time today, edges a Bumrah delivery towards the slip cordon but it goes for a boundary past the gully fielder. Streaky but effective.
11:12 hrs: Four! Tom Blundell is looking good as he hits his third boundary of the innings off Umesh Yadav. He mistimed the ball but there was no one near the cover ropes to cut out the boundary.
11:06 hrs: Four! Bumrah bowled a bit fill and Blundell got on to the front foot and hit the perfect cover drive. Second boundary of the innings for Blundell as he seems to have got his eye in. India need to break this opening partnership soon.
11:01 hrs: India need wickets to put pressure on the hosts but the right-hand left-hand combo is working well for the Kiwis. Bumrah and Umesh have bowled well but haven't been rewarded for it so far.
10:55 hrs: Jasprit Bumrah and Umesh Yadav haven't given any freebies to the batsmen as there has been just one boundary scored in the Kiwi innings thus far. But credit must be given to Latham and Blundell as they haven't given any chance to the bowlers yet.
10:49 hrs: Umesh Yadav starts well as he bowls a maiden over to Tom Latham. Remember, there is no Ishant Sharma today as he was ruled out due to recurrence of a knee injury he sustained during Ranji Trophy clash between Delhi and Vidarbha in January.
10:43 hrs: Jasprit Bumrah sets the top for the visitors with a good first over. He beat the outside edge of Latham's bat with a fine delivery, which could have easily resulted in a wicket. India need to create as much pressure as possible to scalp early wickets.
10:37 hrs: Virat Kohli has called his team into a huddle so as to issue a rallying cry to rile up his teammates. If India pick up few wickets here in the final session, they will be able to make a comeback into the contest.
10:30 hrs: All-out! Trent Boult picks the last wicket of the innings as he gets rid of Mohammed Shami for 16. India have been bundled out for 242 in their first innings. Kyle Jamieson was the star of the day for Kiwis as he ended up with a five-wicket haul.
10:25 hrs: SIX and SIX! Mohammed Shami won't go down without a fight as he hits couple of sixes off Trent Boult. The first one he pulled for six over square leg and the second over went over long on. India edging closer to 250-run mark.
10:20 hrs: Stat attack! Maiden 5-wicket haul for Jamieson in international cricket. 8th bowler to take a 5-wicket haul at Hagley Oval, Christchurch and 5th among Kiwis. 5th New Zealand bowler to take a 5-wicket haul against India at 4th bowling position.
10:15 hrs: Five-wicket haul! Kyle Jamieson gets rid of Ravindra Jadeja for 9 as he caught by Trent Boult at fine leg. India are nine down now and on the verge of getting dismissed.
10:10 hrs: Four and Four! Ravindra Jadeja has decided to take on the Kiwis bowlers before he runs out of partners. He hits two boundaries off three Boult deliveries to make his intentions clears.
10:07 hrs: Out! Second wicket of the over for Jamieson as he gets rid of Umesh Yadav as well. The right-hander edged the ball into the hands of keeper Watling. India are eight down now.
10:02 hrs: Out! Rishabh Pant's short innings comes to an end as he is castled by Jamieson for 12. India have lost their seventh wicket and are in big trouble. Ravindra Jadeja will have to put on a miraculous show here to take score closer to 300-run mark.
09:58 hrs: Dropped and dropped! Rishabh Pant is riding his luck as he has been dropped twice off successive Trent Boult deliveries. An edge off his defensive shot was dropped by CDG at mid-wicket. The next ball was an edge and it went flying past the keeper for a boundary.
09:52 hrs: OUT! Cheteshwar Pujara's vigil finally comes to an end as he is dismissed by Jamieson for 54. The right-hander went for the pull and ended up getting a top-edge. Keeper Watling completed the high catch easily.
09:46 hrs: Pujara and Pant will look to build a good partnership here in the final session to bail the team out of trouble. Vihari's dismissal at the stroke of Tea came as a big blow for the visitors and they will have to rebuild once more.
09:40 hrs: Final session begins! Cheteshwar Pujara and Rishabh Pant resume innings after Team while Neil Wagner will finish his final two balls of the over.
09:30 hrs: Out and Tea! Vihari went after another short delivery and paid for it with his wicket. He glouved the ball into the hands of wicketkeeper off Wagner, who gave him an animated send-off. With that, Tea has been called by the umpires.
09:24 hrs: Fifty! Hanuma Vihari hits a bizarre shot but there was no one to catch it at deep point and he gets a four for it. With that, he has brought up his half-century off 67 deliveries. The partnership between the duo is worth 77 now.
09:18 hrs: Stat attack! 2nd Fifty plus stand between Vihari and Pujara and both came outside India. 1st fifty plus stand for 5th wicket by India against New Zealand after 9 intervening innings. 1st fifty plus stand for 5th wicket by India in New Zealand after 4 intervening innings.
09:12 hrs: 4,4,4! Hamuna Vihari has started to cut loose and he hits three boundaries in one Trent Boult over. The pacer won't like this but Vihari is high on confidence and batting with freedom.
09:06 hrs: Fifty partnership! Vihari and Pujara have put together fifty partnership and India are in a good moment here. They need the duo to bat for as long as possible.
09:00 hrs: Bowling change as Colin de Grandhomme comes onto bowl and he is hit straight away for a boundary by Vihari. The ball was hit towards cow corner for Vihari's fourth four of the innings.
08:54 hrs: Credit has to be given to Vihari as well as he kept the other end steady and that has given Pujara to play his natural game. The duo are growing in confidence with every passing over and that bodes well for the visitors.
08:48 hrs: Stat attack! This Pujara's 25th Test half-century but first in New Zealand. Pujara will be hopeful of scoring a big one here after failing with the bat in the first Test.
08:42 hrs: Pujara brings up his half-century off 117 deliveries and he has kept Kiwi bowlers at bay so far. It has been a typical Pujara innings and his dogged display has frustrated the bowlers.
08:36 hrs: Body blow for Pujara as Wagner's fast delivery hits him on the back. A maiden over from the Kiwi bowler as Indian batsmen sticking with the plan of playing cautious cricket rather than throwing away their wicket.
08:30 hrs: Jamieson and Wagner have kept Indian batsmen quiet in the last few overs. They aren't giving any freebies to Pujara and Vihari and the visitors are content with just staying at the crease at the moment.
08:24 hrs: The partnership between Pujara and Vihari is worth 30 now off 41 deliveries. India needed this partnership after losing their fourth wicket. The visitors would hope these two continue in same fashion for most part of the day.
08:18 hrs: Cheteshwar Pujara is looking in good nick as he hits his sixth boundary of the innings of Jamieson. He and Vihari have done well to keep the scoreboard ticking after Rahane's dismissal.
08:11 hrs: Dropped! New Zealand had the chance to pick their fourth wicket of the day after Jamieson produced an outside edge off Vihari's bat. Luckily for India, BJ Watling dropped the catch behind the stumps.
08:05 hrs: Hanuma Vihari seems to have some trouble with his index finger and the physio has been called out to check. Jamieson's short ball hit him on the finger but he is fine to continue.
07:58 hrs: Just one over for Neil Wagner in this match till now and considering his wicket-taking prowess, it is an interesting decision from the New Zealand skipper Kane Williamson. IND 120/4
07:49 hrs: Big wicket for New Zealand and Ajinkya Rahane departs! Tim Southee induced the edge and Ross Taylor completed an easy catch. IND 113/4
07:40 hrs: Ajinkya Rahane joins the party as he pulls Tim Southee for a boundary through fine leg. The runs are flowing at a decent pace at the moment and India are 111 for the loss of three wickets.
07:32 hrs: Consecutive boundaries for Cheteshwar Pujara brings up the 100 for India. Good show from the right hander as India are 105 for the loss of three wickets.
07:23 hrs: Virat Kohli's batting woes continue -
3rd time Southee has dismissed Kohli in Tests.
o 103 at Bengaluru in 2012
o 4 at Auckland in 2014
o 3 at Christchurch in 2020
· 3rd consecutive innings without touching 20-run mark for Kohli in Tests.
· 4th consecutive innings without touching 20-run mark for Kohli in New Zealand in Tests.
· 4th consecutive innings without touching 20-run mark for Kohli in away Tests.
· Also, Kohli faced 10 balls in this innings against Southee and scored 0 — 1st such instance for Kohli against Southee in Tests.
07:16 hrs: Perfect start to the second session for New Zealand! Tim Southee strikes and the India skipper is trapped LBW for 3. The lean patch continues for the skipper as India are 85/3.
07:11 hrs: Start of the second session and both Virat Kohli and Cheteshwar Pujara will be looking to steady the innings. A good start to the match for India but they will have to safeguard the wickets at this point.
06:31 hrs: It's lunch at Christchurch and India are 85 for the loss of two wickets. Cheteshwar Pujara and Virat Kohli are out in the middle for India and they will be looking to build on this somewhat solid foundation.
06:22 hrs: Prithvi Shaw became the 2nd Youngest Indian to score a Test fifty against New Zealand after Sachin Tendulkar (16y, 293d) at Napier in 1990 and the youngest to score a Test fifty at Hagley Oval, Christchurch (20y, 112d).
06:14 hrs: Good catch from Tom Latham and that is the end of Prithvi Shaw. The ball travelled quite quickly off Shaw's outside edge and Latham took a brilliant one handed catch to complete the dismissal. IND 80/2
06:10 hrs: Neil Wagner is introduced into the attack and it will be interesting to see how the India batsmen will negotiate the line from the fast bowler. However, Prithvi Shaw slams a six over fine leg and it is fifty for the youngster! India 79/1
05:57 hrs: A close LBW call from Colin de Grandhomme but Cheteshwar Pujara survives for now as the ball was going over the stumps. IND 64/1
05:49 hrs: Colin de Grandhomme wa all over the place when it came to maintaining his line and length and that is exactly with Shaw needed as he scored two more boundaries to move into the 40s. India 58/1
05:40 hrs: A boundary each for Prithvi Shaw and Cheteshwar Pujara as India have recovered well after the loss of Mayank Agarwal. It's time for drinks and the visitors are 50 for the loss of one wicket.
05:32 hrs: It has been an unusual innings from Cheteshwar Pujara till now. A couple of misses followed by an attempt to accelerate. India 40/1 after 10 overs.
05:22 hrs: Cheteshwar Pujara has struggled till now against the pace of Trent Boult and New Zealand are attacking him with a couple of close fielders. After 8 overs, India are 32 for the loss of one wicket.
05:13 hrs: Breakthrough for New Zealand! A full delivery from Trent Boult and Mayank Agarwal was trapped LBW for 7.
05:08 hrs: Back to back boundaries for Prithvi Shaw and India are 26 for no loss. The first one was a punch through point and he followed it up with a glorious shot straight down the ground.
04:59 hrs: Prithvi Shaw has faced the majority of deliveries till now and he has looked quite impressive. Another back of the length delivery from Tim Southee and Shaw dispatched it to the boundary. India 14/0 after 3 overs.
04:51 hrs: Positive start for Prithvi Shaw and he guided the ball through thirdman for the first boundary of the Test match. India 5/0
04:44 hrs: Prithvi Shaw and Mayank Agarwal to open the batting for India while Tim Southee will start proceedings for New Zealand.
04:34 hrs: India (Playing XI) - Prithvi Shaw, Mayank Agarwal, Cheteshwar Pujara, Virat Kohli(c), Ajinkya Rahane, Hanuma Vihari, Rishabh Pant(w), Ravindra Jadeja, Mohammed Shami, Umesh Yadav, Jasprit Bumrah
04:25 hrs: Two changes for India - Umesh Yadav in place of the injured Ishant Sharma and Ravindra Jadeja replaced Ravichandran Ashwin.
04:20 hrs: New Zealand (Playing XI) - Tom Latham, Tom Blundell, Kane Williamson(c), Ross Taylor, Henry Nicholls, BJ Watling(w), Colin de Grandhomme, Tim Southee, Neil Wagner, Kyle Jamieson, Trent Boult
04:16 hrs: New Zealand opt to field after winning toss against India in the second Test.
03:58 hrs: The toss is delayed to 04:15 IST due to wet outfield. It was raining for a bit but the sun is out and the match should start within an hour.
03:10 hrs: There will be more challenges for India when it comes to facing fast bowling as Neil Wagner will be making his return in the second Test match after the birth of his child.
02:56 hrs: The India batsmen will be under a lot of pressure going into the second Test as they were unable to live up to their reputations in the first encounter. Names like Virat Kohli, Cheteshwar Pujara and Ajinkya Rahane failed to score big and the visitors will need them to step up their game if they want to stage a comeback.
02:44 hrs: The New Zealand bowlers were quite impressive during the first Test in Wellington and Trent Boult believes that the green top at the Hagley Oval will be more helpful to them ahead of the second encounter. "...it's probably better (than bowling at the Basin). The Basin generally turns into a very nice batting surface. There's a lot of runs been scored there both in domestic and international cricket," Boult said.
02:30 hrs: Ishant Sharma will miss the second Test after his right ankle injury resurfaced. Umesh Yadav and Navdeep Saini will be fighting for the spot in his absence.
02:20 hrs: Hello and welcome to the live coverage of Day 1 of the second Test encounter between India and New Zealand in Christchurch. India lost the first Test by ten wickets and they will be looking to avenge the loss at the Hagley Oval while the Kiwis will look to continue their brilliant run of form.