'Is this real?': India U19 Women's T20 WC winner Soumya Tiwari's absolutely priceless response to Virat Kohli's tweet
Feb 01, 2023 08:17 AM IST
Virat Kohli had taken to his official Twitter account to congratulate the Indian U19 Women's team on winning the T20 World Cup.
The Indian U19 women's team created history when it lifted the inaugural T20 World Cup title earlier this week. The side defeated England by seven wickets in the titular clash as a Shafali Verma-led side bundled them out for 68 in 17.1 overs, and then returned to knock off the paltry target in 14 overs to lift the coveted trophy. The win on Sunday also reaffirmed India's dominance at the U-19 level with the boys winning the world title in the Caribbean last year.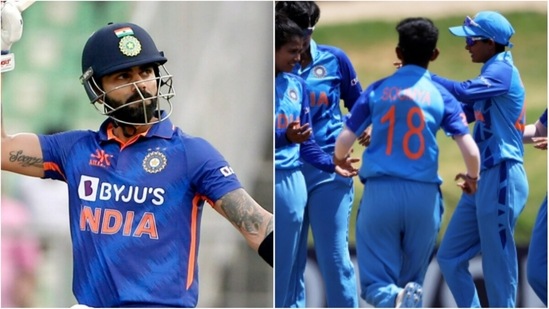 Wishes poured in for the Indian team following the incredible win, with India's batting great and former captain Virat Kohli also taking to his official Twitter account to congratulate the girls. Kohli was the captain of the Indian U19 team when it had lifted the ODI World Cup title in 2008.
Also read: 'T20 Ranchi mein chalu huya tha toh...': Watch Suryakumar's epic Dhoni reminder in reply to reporter's 'finisher' query
"U-19 World Cup Champions! What a special moment! Congratulations girls on your triumph," Kohli had tweeted.
Soumya Tiwari, one of the members of the U19 World Cup-winning team, had a priceless response to Kohli's tweet.
"Is this real?" Tiwari wrote as she posted a screenshot of the tweet on her Instagram profile.
"Like seriously, what else u can ask for after the World Cup .."
Soumya, who idolises Virat Kohli, also wears the number 18 jersey -- the same number as Kohli -- and played in four matches at the U19 T20 World Cup last month. In the final of the tournament, she had remained unbeaten on 24 in the run-chase and took India to a comfortable win.
Following the win, BCCI secretary Jay Shah also announced a whopping cash reward of ₹5 crore for the entire India squad. The secretary also invited the entire unit to Ahmedabad on Wednesday.
"I invite @TheShafaliVerma and her victorious team to join us at the Narendra Modi Stadium, Ahmedabad and witness the third T20I on 1st February. This humongous achievement surely calls for a celebration," he added.