Mayank Agarwal can't wait to grab his second chance
The opener had a spectacular start to his Test career two years ago, but his weaknesses were exposed in Australia this year. Using that as a learning experience, Agarwal is eager to get going for the New Zealand series.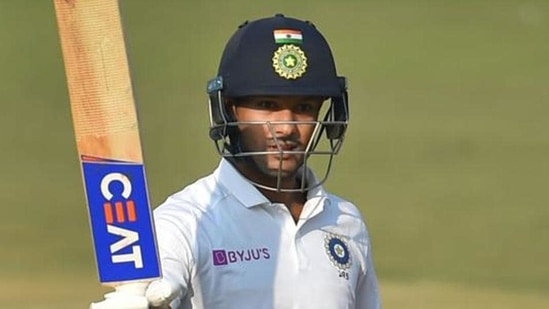 Updated on Nov 16, 2021 10:40 PM IST
In the first nine Tests of his stop-start international career, Mayank Agarwal literally couldn't put a foot wrong. His punchy drives through the off-side and down the ground were a striking feature of his attacking repertoire while his defence was sound enough to thwart the good balls. His play was grounded in solid footwork and he seemed to carry the right ingredients for a lengthy innings as India Test opener. His three centuries – two of them double tons – had come against South Africa and Bangladesh in Indian conditions, but the usual pessimism that may accompany such accumulation of runs in one's own backyard did not necessarily apply to Agarwal. His first two Tests were against the trio of Mitchell Starc, Josh Hazlewood and Pat Cummins in Melbourne and Sydney.
He passed that early test with flying colours, notching up scores of 76 and 77 in the first innings of those Tests and shielding the middle-order for long enough for them to cash in later. While Agarwal blossomed early on, international attacks eventually suss out a batter's game and home in on any potential frailty. As Agarwal has found out in the last 18 months. On his second tour of Australia in 2020/21, the Australians were precise with their plans and perfect with their execution. And suddenly, Agarwal's high backlift and inclination to lunge forward seemed glaring weaknesses. He was often rushed by pace as well, with his front foot still landing on its heel at the moment that the ball passes the bat. The man who averaged 70 in his first nine Tests, now averaged 18 in his last five.
With the two-match Test series against New Zealand commencing on November 25, Agarwal will hope to rekindle his memories from the bumper home season two years ago and again make an impact. The rest provided to Rohit Sharma for the series means that Agarwal will likely get a crack alongside old friend KL Rahul at the top of the order.
"I am excited about the chance to play Test matches again. We are having a four-day camp in Mumbai. We are preparing well and brushing up on our red-ball game. If we can replicate what we did in 2019 as a team (India won all five Test matches in the home season), it would be great," Agarwal said after joining up with the Test players in Mumbai.
Agarwal is also looking forward to reacquainting himself with the coaching philosophy that Rahul Dravid will bring to the table. The 30-year-old has worked under Dravid during his appearances for India A.
"Working with him in India A was really enjoyable. So I am really looking forward to working with him again. Something I have picked up from Rahul bhai is managing your mental energy while playing a game. The mental aspect is something I have spoken about with him. As and when I get an opportunity, I will definitely speak to him more and more about the technical side of batting and pick his brain," he said.
While Agarwal's technical issues are unlikely to be put to a severe test in home conditions, he will still get an opportunity to show that he has made course corrections. "The Australia tour was tough personally. There were a lot of learnings from that series. I have worked on my game after that. I wouldn't share the changes I have made," said the opener, guarded about divulging details of specific changes.
Agarwal could have illustrated those changes during the Test series in England three months ago, but a blow on his head in the nets days before the opening Test left him concussed and resulted in him missing the entire series. Injuries, too, have been a frustratingly recurring theme in Agarwal's career thus far. He is not bitter about it though.
"Honestly, I have looked at injuries as part and parcel of my life. As a sportsperson, you sometimes have these unfortunate incidents. I have accepted it and moved on from there," he said.
Enjoy unlimited digital access with HT Premium
Subscribe Now to continue reading
Close Story