Pandya, Rishi's experiments with bowling line like walking a tightrope
So is it a tactic to save runs or a unique approach to get wickets? The answer to this could well be both.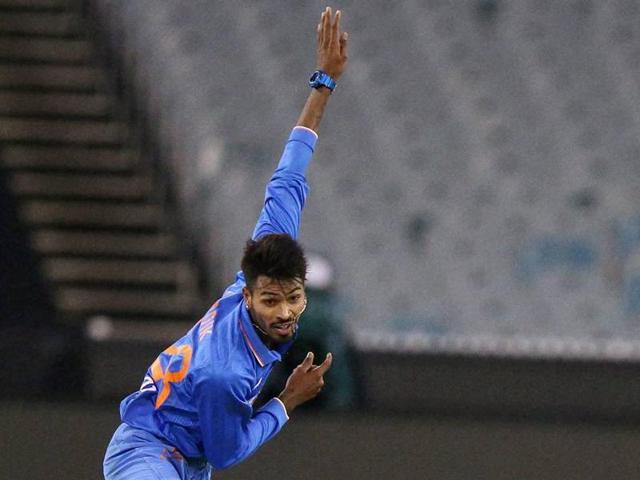 Published on Jan 31, 2016 12:27 PM IST
During the first India-Australia T20 at Adelaide, Hardik Pandya returned for his second spell in the 15th over. The Baroda youngster, also making his T20 debut for India, had a rather harsh start to his international career as he leaked 19 runs in his first over---including six wides. Though, Pandya operated in the mid 130s, he paid the price for bowling in the batsman's radar.
On his return, Pandya bowled a wide again. Skipper MS Dhoni signalled him to stick to that line despite the risk of conceding extras and it paid dividends, as there was a stark and immediate change in his line. He had kept the ball within the stumps so far but after Dhoni's advice, Pandya had been bowling near the tenth stump. Saying that, the change in line still could not help him contain runs but it certainly landed him a couple of wickets. Chris Lynn fished out and middled his wide-ish delivery straight into the hands of cover while Mathew Wade sent a skier to mid-wicket on a slower one.
In the second T20, Pandya's pitch map once again depicted heavy concentration outside the off-stump. On the same page was Rishi Dhawan in the fifth ODI in Sydney. The Himachal all-rounder managed to hold on well during his first two games, but in Sydney, there was a drastic and sudden change in his line, which had started to drift towards the leg-side to a right hander and kept getting wider. Dhawan too experienced discomfort and ended up conceding 4 wides.
So is it a tactic to save runs or a unique approach to get wickets? The answer to this could well be both. Pandya and Dhawan are very different bowlers. Yes, they play a similar role in the team but their bowling styles demand this particular approach especially when playing in Australia.
Let's first focus on Pandya. He can bowl at good pace between 130-140 kmph. It has been noticed during the previous two T20s that whenever he has bowled in the line of stumps, he has been milked for runs. The reason is simple. With the Australian tracks offering true bounce, Pandya becomes an easy target for the Aussies. More or less, just stand and deliver. Also, because of steep bounce the bowler is at a disadvantage because getting LBWs becomes extremely difficult. So, Pandya had to change his line and try for other ways of getting wickets. In this case, there is a brighter chance for Pandya to fetch wickets by inducing an edge or inviting a batsman to slog him.
His dismissals in the first T20 would give testimony to that. Bowling wider forces a batsman to stretch for the ball and use his skill to send the ball over the fence. But this strategy is good for Australian tracks. India are scheduled to play in the subcontinent over the next few months, hence the more he focuses in the line of stumps, the better he will be with results.
Dhwan, on the other hand, is a dibbly-dobbly medium pacer. In domestic cricket, Dhawan picks a lot of wickets by bowling in the stumps and finds success with LBWs. But in Australia, he bowled well and tight in his first two ODIs but he couldn't get wickets.
In the shorter format, picking wickets is the best way to slow the run-rate and bowl dot balls. But Dhawan also suffered due to extra bounce. Who knows, even he could have been advised by Dhoni to experiment with his line. Dhawan's pitch map of the Sydney ODI explains the point. He too slanted way down the leg side and was inviting the batsmen to reach for his deliveries.
Another reason is the failure of Indian bowlers to bowl to a field. They have been conceding runs on both sides and this has made Dhoni's life difficult as a leader. The margin is even less in a T20 game and it could very well be a tactic to force the bowlers to bowl on one side. The trend has shown positively until now and Dhoni would expect his bowlers to learn from it for a better future.
Close Story