Shah-led Asian Cricket Council refutes PCB charge
Jan 06, 2023 09:01 PM IST
War of words between Indian and Pakistan cricket board officials continues even as Asia Cup 2023 is set to be moved to a neutral venue.
The change in dispensation at the Pakistan Cricket Board (PCB) hasn't led to a change in its stance of accusing the Asian Cricket Council (ACC) president and Board of Control for Cricket in India (BCCI) secretary Jay Shah of taking unilateral decisions.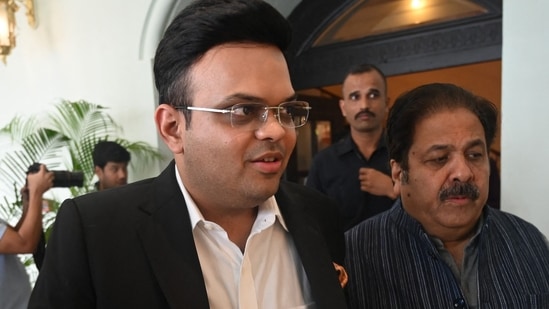 Shah as the ACC Chief had tweeted a detailed schedule of ACC events (2023-24) on Thursday, to which Sethi reacted sarcastically on twitter. "Thank you @JayShah for unilaterally presenting @ACCMedia1 structure & calendars 2023-24 especially relating to Asia Cup 2023 for which Pakistan is the event host. While you are at it, you might as well present structure & calendar of our PSL 2023! A swift response will be appreciated," he had tweeted.
On Friday, the ACC put out a statement refuting the latest claims from PCB's new Chairman Najam Sethi.
"It has come to our knowledge that PCB Chairman Mr. Najam Sethi has made a comment on the ACC President unilaterally taking the decision on finalising the calendar and announcing the same," the ACC statement said. "The ACC wants to clarify that it has followed established due process. The calendar was approved by its Development Committee and Finance & Marketing Committee in a meeting held on December 13th, 2022.
"The calendar was then communicated to all the participating members individually, including Pakistan Cricket Board (PCB), via an email dated December 22nd, 2022. While responses were received from certain Member Boards, no comments or suggested modifications were received from PCB. In view of the above, Mr. Sethi's comments on a social media platform are baseless and are vehemently denied by the ACC."
The moot point of disagreement between the neighbouring cricket boards is centered around the venue of the 2023 ODI Asia Cup, originally scheduled to be held in Pakistan. Shah had made it categorically clear, last October after the BCCI AGM that the Asia Cup was being moved out of Pakistan to a neutral venue.
BCCI officials say any future engagements against Pakistan and in Pakistan outside International Cricket Council (ICC) events will require the permission of its government. Officials on condition of anonymity have been ruling out any immediate resumption of cricket ties between the arch-rivals pointing at the public position taken by India's External Affairs Ministry against Pakistan's state-sponsored terror.
In response to the Asia Cup controversy, ex-PCB Chairman Rameez Raja has first threatened to rule out Pakistan's participation from the 2023 ODI World Cup to be held in India before softening his stance. Sethi has said their decision will be based on government advice.
There's also fear within the PCB that the 2025 Champions trophy hosting rights allocated to Pakistan could also be in jeopardy if the BCCI's position does not change. Indian board officials say they will cross the bridge when they get there.
"That's quite far away. The government will take the final call and we will abide by it," BCCI Vice president Rajeev Shukla had recently said.
The two nations haven't played bilateral cricket for more than a decade. They have been playing each other in Asia Cups, but at neutral venues. India last played an Asia Cup in Pakistan in 2008. They continue to engage in ICC events which are frequently hosted by India, given the attractiveness of India's cricket market. Pakistan last participated in the 2016 T20 World Cup in India.