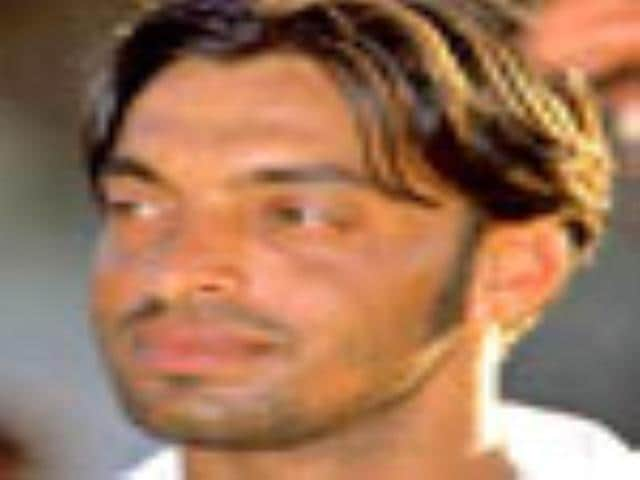 Shoaib Akhtar appeals against ban
The pacer's lawyers meet PCB's Chief Operating Officer Shafqat Naghmi and submit the appeal to him.
UPDATED ON APR 04, 2008 10:20 PM IST
Fast bowler Shoaib Akhtar on Friday filed an appeal against the five-year ban slapped on him by the Pakistan Cricket Board.
Akhtar's lawyers Mohammad Ali Lashari and Mohammad Azim Danyal met PCB's Chief Operating Officer Shafqat Naghmi and submitted the appeal to him.
A large media contingent had gathered at the stadium and there was a small protest against the ban outside the main gate.
"The ban is illegal and unconstitutional and we intend to have it reviewed and removed," Danyal told reporters at Lahore's Gaddafi stadium.
Akhtar himself showed up at the end of the meeting and said he had appealed as per the procedures of the PCB. "I came to submit the appeal according to the procedures of the PCB and I have done that. I respect the law, PCB and the chairman (Nasim Ashraf)," he told reporters.
Akhtar also told the gathering of mediapersons and his fans to "be patient till the PCB decides on the appeal" and added that "we need to learn to repsect the law."
He also thanked all those, including former captain Imran Khan, Tauqir Zia and Haneef Abbasi, who backed him in the whole episode.
Naghmi said that as per the procedures of the Board, PCB Chairman Nasim Ashraf will head the appellate committee to hear the appeal. "It is Shoaib's right to appeal against the ban. And we are now bound to give him another fair hearing," Naghmi said.
He said the Board would hand over the detailed judgement of the disciplinary committee, which imposed the ban on Monday, to Akhtar's lawyers after which they will have seven days to file a final appeal.
Asked if it was fair for Ashraf to head the committee since the PCB chief had filed a defamation suit against the bowler, Naghmi said the appellate tribunal would take a decision on the basis of facts and not any political pressure.
"The appeallate tribunal's job is to dispense justice. A decision will be made on the basis of facts and not politics," he said.
But the news for the maverick fast bowler, apart from his appeal, was not good with problems mounting for him rapidly.
A spokesman for the Prime Minister's house, Shabbir Anwar categorically denied reports that Yousuf Raza Gillani had told PCB to review the ban. "These reports are not correct at all. The Prime Minister has not issued any such instructions to anyone and as he is busy with other pressing affairs," Anwar said.
Naghmi also said the Board had not received instructions from anyone, including the Prime Minister, to review the ban.
He also denied that PCB had any role in the Indian Premier League shunning Akhtar.
Close