Smriti Mandhana urges India women's team to learn from Mithali Raj and own up mistakes
Smriti Mandhana, who smashed a career-best 67 in the first Twenty20 International against Australia, has admitted the players need to look up to Mithali Raj and continue their good start.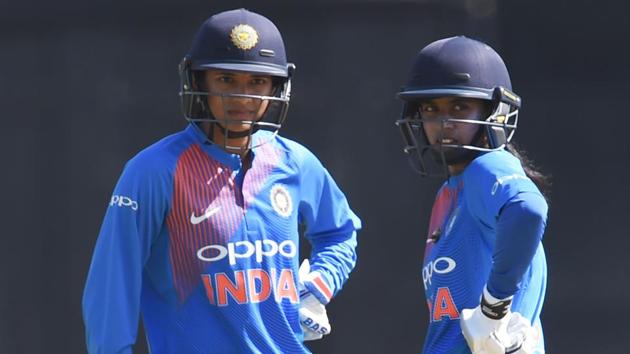 Updated on Mar 22, 2018 05:37 PM IST
Press Trust of India |
Press Trust of India
Admitting that the team is not learning from its past mistakes, India vice-captain Smriti Mandhana today took blame for the six-wicket loss against Australia Women saying she threw her wicket away.
"We are not learning from our mistakes in the ODIs. I have been timing the ball well, but I have been getting out after getting set, so that is the take away from this match," a disheartened Mandhana told reporters at the post match conference.
Mandhana's 67, her highest score in T20 internationals, went in vain as India suffered a humiliating six-wicket loss to the Aussies.
Giving the example of Mithali Raj, Mandhana said the juniors needed to own up to their mistakes and learn from the ODI skipper and other senior players.
"It's very easy to blame others and not put it on ourselves. As player it is easy to say that they didn't perform, but the fact is that it is really hard for a new batsman to come and bat, and it is really for a set batswoman to play, so it is much easier for me to continue till the 20th over than for the other batswoman to continue and bat.
"I am taking that blame on myself, that if I am set and hitting the ball well, I should continue, like Mithali di does, we have to learn from our seniors," explained Mandhana.
The vice-captain also said 175 would have been a a good score and she was aiming at 170 but was unable to achieve it.
"Against this Australian side when I was hitting the ball well I thought anything above 175 would be good because they have great depth in their batting, I was aiming at 17O above but I gave my wicket away."
She also said the bowling unit needs to step-up and take the pressure of the batswomen.
"We are doing the same mistakes in bowling unit, one is performing and others are not supporting. If there is pressure from both ends then the batsmen will go and try something else. Our bowling unit has to step-up and create the pressure which we haven't done in the ODIs," Mandhana said.
Meanwhile Australian skipper Meg Lanning said her team performed well and the two Indian wickets in the middle ultimately made the difference.
"Pretty good performance if you look at it. I thought we under pump a little bit with the ball. (I) thought Mandhana was taking it to us a fair bit, but those two wickets in the middle there I thought changed the game. We were pretty happy chasing 150. I thought our batters did a good job too. Nice to start off in that way," the 25-year-old said.
She added that Australia's game plan against may be England would be different tomorrow.
"We came in with a plan against India and it could be different tomorrow against England. That's the key to our group that everyone can play different roles and we're able to step in and play that when we need. It thought the girls that came in early today did a good job and we'll have to assess tomorrow against England."
Close Story