Steve Smith, David Warner should be treated leniently: ex-India pacer Ashish Nehra
Updated on Mar 26, 2018 10:52 PM IST
Ashish Nehra, the newly-appointed bowling coach of IPL side Royal Challengers Bangalore, feels keeping Steve Smith and David Warner out of the T20 league or handing them lengthy bans will be harsh.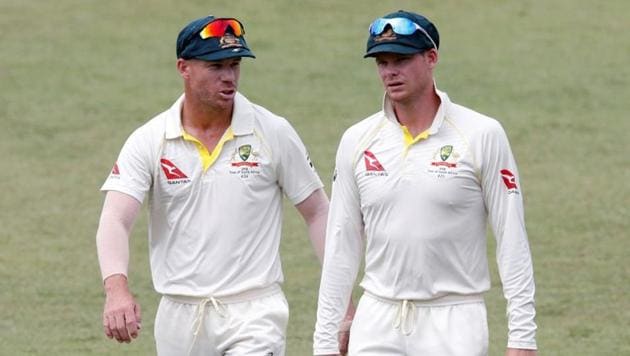 Deposed Australia skipper Steve Smith and deputy David Warner are bracing for fresh sanctions from their cricket boards for cheating over the ball-tampering scandal that has rocked the team in South Africa. Sports-mad Australia and the cricket world have expressed shock over the revelations in the Cape Town Test.
However, the two found some backing on Monday with former India fast bowler Ashish Nehra commending Smith for publicly admitting to the 'leadership role' in Cameron Bancroft using a sticky tape to try and alter the condition of the ball as the visiting side slid towards defeat in the third Test.
"All have different views," the left-arm pacer said at a promotional event for Royal Challengers Bangalore. "If they have done something wrong, ICC will punish them. (But) I give credit to Smith because he has admitted to making a mistake… They (officials) should keep these things aside and move forward, I don't think there should be anything more."
Smith and Warner have been asked to step down from their posts by Cricket Australia while the International Cricket Council (ICC) has banned the skipper for one Test after admitting to 'planned attempt' at tampering.
IPL ramifications
While the two, and the Australia team support staff, face possible sanctions from CA, the immediate concern is whether Smith, named captain of Rajasthan Royals, who are returning after a two-year ban over the 2013 spot-fixing scandal, and Warner, the Sunrisers Hyderabad skipper, will be even able to play in the T20 league starting on April 7, leave alone hold on to their captaincy.
Nehra, who played under Warner and was part of SRH during its 2016 run to the title, said it would be sad if players of their quality go out of IPL.
"You won't see tampering in T20. You see that in Test cricket where you have long sessions. These things will be there. It will be sad if any IPL team loses a guy like Smith or Warner, considering the kind of players they are."
Nehra, who has taken over as RCB's bowling coach this season, said he did not condone ball-tampering. "Even stealing is an art," he said when suggested that pressure to prepare the ball to reverse-swing was at the heart of tampering attempts.
"If you are really hardworking, you will perform better than others, although unlike other sports you can't practice on the pitch you will play, which is an issue while preparing."
Smith's frustration
Nehra, who played 17 Tests and was a member of India's victorious 2011 World Cup side, empathized with Smith. "He himself said, 'I was frustrated (not getting wickets)'. These things can happen when you are playing abroad."
Australian cricket was not merely about the tampering scandal, or sledging, he added. "Australia have always played hard cricket, though crossing the line is not a good thing. But they have a trend and that is why if you see their record, they are doing so well. Sledging does happen here and there, but it is about performing in tough conditions.
"MS Dhoni and Virat Kohli have also performed, but are very different people. Virat, for instance, is very animated. Smith and Warner are not just talking, but performing too, which we should not forget.
"Smith and Warner have lost their captaincy and vice-captaincy. I don't think it should make a difference in IPL. We should move forward."
Cricket Australia's code of behaviour for cheating is stringent, and fresh reports have emerged that South Africa players had tipped off the official broadcasters as they suspected Warner to have used the sticky tape in an earlier Test in the series.
"I'm nobody, but life ban will be very harsh for any player," Nehra added.
Balanced RCB
Nehra said the Virat Kohli-led RCB had a more balanced team with a versatile bowling unit comprising Umesh Yadav, England's Chris Woakes, all-rounders Moeen Ali and Corey Anderson, rookie pacers Mohammed Siraj and Kulwant Khejroliya as well as home spinners Yuzvendra Chahal and Washington Sundar.
"The Bangalore wicket is not easy for bowlers, except for last year when it turned. My role is to ensure what is best for that ground, and my rapport with Virat will also help.
"The main difference is the kind of bowlers we have. "Moeen can even open the batting. Woakes can bat in the last few overs. Washington can bowl with the new ball and Chahal can use the old ball. Umesh is there. The bowling unit is complete."
Personalise your news feed. Follow trending topics