'That's why he's been picked...': Rahul Dravid identifies Dinesh Karthik's role ahead of 1st India vs South Africa T20I
Published on Jun 07, 2022 06:36 PM IST
Ahead of the first India vs South Africa T20I in Delhi, head coach Rahul Dravid said Dinesh Karthik was selected for the Indian side based on his exploits as a finisher for RCB.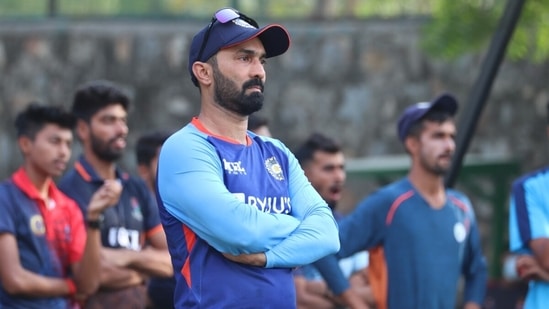 One thing constant in India's training session at the Arun Jaitley Stadium in New Delhi ahead of the first T20I against South Africa was Dinesh Karthik's broad smile. He had set a target of making a comeback to the Indian team during IPL 2022 and even before his team Royal Challengers Bangalore completed their campaign, Karthik had realised his dream. The veteran wicketkeeper-batter made a comeback to the Indian side after a gap of close to three years. And if India head coach Rahul Dravid is to be believed, Karthik can well get the finisher's role in the series opener on June 9.
Also Read: Umran Malik full of steam during India nets but concerns remain ahead of 1st T20I vs South Africa
Dravid said Karthik was selected for the Indian side based on his exploits as a finisher for RCB. "Dinesh… it's pretty obvious... Very clear that he has made a comeback based on the skills that he has shown in a particular phase of the game. At that backend, Dinesh has really been able to show great consistency for the last 2-3 years. He has been able to make a difference in whichever team he has played, that's why he has been picked," Dravid said in the pre-match press conference on Tuesday.
Karthik scored 330 runs for RCB this year in 16 matches at a strike rate of 183. He was at his deadly best in the last five overs of the innings. The majority of his 22 sixes in the tournament came in the death overs and Dravid hopes the veteran of 92 ODIs and 32 T20Is can replicate the same performance for India.
"He's been picked to bat in that kind of position and see if he can replicate the same performances for India as well," Dravid added.
On Monday, during India's first practice session ahead of the South Africa series, Karthik spent about 15 minutes practicing the ramp shot, the flick, and the scoop against India's throwdown specialists. He even asked them to vary their length so that it becomes difficult for him to line the length up.
Karthik's success rate in the net session was about 50 percent but he seemed more than satisfied with his efforts. And why shouldn't he be? Karthik was the only Indian batter to try unorthodox shots for such long time. That the right-hander was in the best of spirits was evident when he was seen having banter with left-arm spinner Axar Patel before taking guard.
Personalise your news feed. Follow trending topics