Usman Khawaja granted visa to travel to India; to fly out on Thursday
Feb 01, 2023 09:47 PM IST
Khawaja granted visa to travel to India; to fly out on Thursday
Australia opener Usman Khawaja was granted the visa late on Wednesday to travel to India for the Test series after the Pakistan-born cricketer was forced to miss the morning flight due to delay in the issuance of travel documents.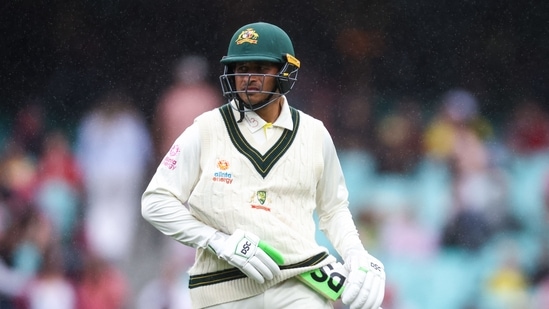 The passport and visa were handed over to a Cricket Australia (CA) representative late on Wednesday night in Melbourne, said a report in 'Sydney Morning Herald'.
The Australian Test squad and support staff led by Pat Cummins had left for the team's training base in Bengaluru on two separate flights on Tuesday and Wednesday, but Khawaja couldn't board either as his passport and visa had not been delivered by the Indian high commission.
Khawaja will now board the flight from Melbourne to Bengaluru on Thursday and could attend the team's training session on Friday, said the report.
The cricketer, after coming to know his visa documents had not been processed, had taken to social media on Wednesday afternoon to express his frustration.
"Me waiting for my Indian Visa like... #stranded #dontleaveme #standard #anytimenow," Khawaja wrote on Instagram.
The report added that the process for the issuance of visa had been initiated by CA in early January, and that Khawaja was the only member in the touring party whose application was not processed in time.
The report quoted a spokesperson of the Indian High Commission as saying that the matter was being investigated.
The Pakistan-born batter has played 56 Tests, 40 ODIs and nine T20Is for Australia. The 36-year-old also featured in the Indian Premier League back in 2016.
He was named Australia's Test Player of the Year on Monday, an award named after the legendary Shane Warne.
Australia will have a four-day training camp on the outskirts of Bengaluru before moving to Nagpur for the first Test beginning February 9. The other venues are Delhi, Dharamsala and Ahmedabad.
Both teams are in the running to reach the World Test Championship final.
Australia have opted out of a tour game in India ahead of the crucial series expecting the surfaces in practice games to be totally different from what they would face in the four Tests.