Watch: Babar Azam brutally takes down reporter after 'Sarfaraz ne Pakistan ki izzat bachaayi' remark in press conference
Jan 09, 2023 07:12 AM IST
Babar Azam brutally took down a reporter with an epic reply after a 'Sarfaraz ne PAK ki izzat bachaayi' remark during a press conference.
Sarfaraz Ahmed was in resurgent form as he clobbered a century to rescue Pakistan in the recently-concluded second Test match vs New Zealand, in Karachi. The wicketkeeper-batter hammered 118 runs off 176 balls, packed with nine fours and a six, as the hosts drew the second Test on Day 5. With the match ending in a draw, the series also ended in a draw with the first fixture facing a similar fate.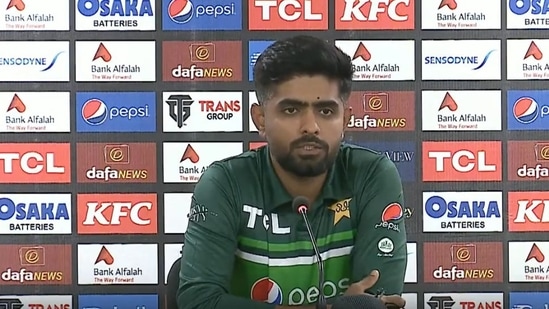 The knock marked a comeback for Sarfaraz, who had been made a scapegoat after Pakistan's exit in the 2019 World Cup and also lost his captaincy. Recently during a press conference, Pakistan captain Babar Azam was asked a question regarding Sarfaraz by a journalist, and the batter came up with a brutal takedown.
Also Read | 'I would be disheartened seeing Suryakumar Yadav's batting': Hardik Pandya's stunning remark after India beat Sri Lanka
The journalist asked, "Usne Pakistan ki izzat bachaayi. Aap nhi samajte ki usko England ke series par bhi chance milna chahiye tha? Aapkp pachtawa hai ki wo char saal ke liye team par nahi tha? (He saved Pakistan's pride. Do you think he should have got a chance in the series vs England and do you regret that he wasn't part of the team for four years?)"
"Nahi, mujhe koi pachtawa nahi (No. I don't have any regrets)", Babar simply replied.
Recently, even PCB interim chief selector Shahid Afridi revealed in a press conference that Mohammad Rizwan was still Pakistan's main wicketkeeper in both T20Is and ODIs, which could dash Sarfaraz' hopes of making it into the World Cup squad. Sarfaraz has not been named in the squad for the three-match ODI series vs New Zealand.
"I'm very happy that Saifi has made a comeback and given such an amazing performance, but Mohammad Rizwan is available and he is our main wicket-keeper in both T20Is and ODIs", Afridi said.
"God forbid if Rizwan gets injured or if he's tired, we'll then consider other options. Let's not mix someone's Test performance with that of limited overs", he further added.