Nuclear technology for recharging water sources in hills
Scientists have started using nuclear technology to help recharge water sources in Uttarakhand on trial basis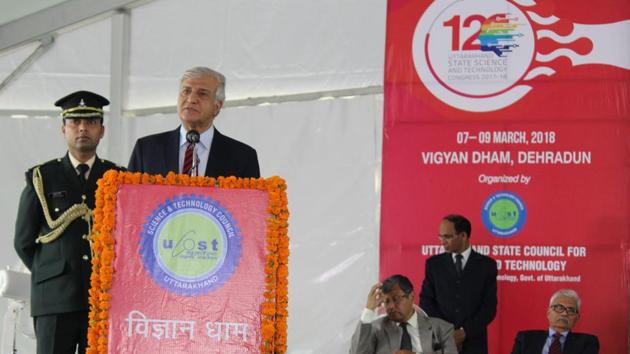 Published on Mar 07, 2018 09:17 PM IST
Scientists have started using nuclear technology to help recharge water sources in Uttarakhand on trial basis.
"We have taken up some projects in Pauri and Uttarkashi districts to revive water sources of some hill rivers. We are using specialised nuclear technology to identify the exact location on mountain slopes where intervention is required to recharge groundwater table," said Dr BS Tomar, from the Bhabha Atomic Research Centre, while addressing the inaugural session of the 12th Uttarakhand State Science and Technology Congress in Dehradun on Tuesday.
Explaining the use of nuclear technology in recharging water sources, he said that a major challenge in conserving or reviving any water source is to identify the location where the intervention is to be made. "The depleted water table at a source can be recharged by allowing water to seep in using rainwater harvesting infrastructure. But on a mountain slope it is very difficult to identify where these structures should be constructed. With the help of nuclear technology, we are now able to identify these locations by conducting various tests on the chemical composition of water and rocks," he said, adding that the results have been encouraging.
Dr Tomar said his team is also trying to set up a 'Gama Eradiation Centre' in Dehradun. "This facility will allow us to increase the shelf life of raw and packed foods produced in the state. The plant will require an investment of ₹20 crore. But once established, the processing standards of local produce will be commensurate to international standards."
The three-day science conclave is being organised by the Uttarakhand State Council for Science and Technology (UCOST). Dr Tomar, along with Prof HS Dhami and Vinod Kumar Gaur, was felicitated with the 'Science and Technology Excellence Award' for their contribution to science. While Dr Tomar was felicitated for his work on nuclear chemistry, Prof Dhami and Gaur were awarded for their work in mathematics and agricultural sciences, respectively. All of them are natives of Uttarakhand.
In his inaugural speech, governor KK Paul, who was the chief guest, said the challenge before the scientific community today is to develop science and technology to solve everyday problems of people, along with making these services affordable.
"Uttarakhand needs the help of the scientific fraternity. There are many areas that are crying for attention and we are unable to allocate sufficient funds and research for them," he said.
"For instance, farmers don't have confidence in adopting organic farming. There is a belief that chemical fertilisers are better and provide them higher yield. It is important that we find ways through which farmers can gain confidence on organic farming," the governor said. He also laid emphasis on the need to exploit satellite imagery for advanced study of glaciers and earthquakes in the state's fragile terrain.
Speaking about his research area on the sidelines of the event, Vinod Kumar Gaur, chairperson, National Seeds Corporation Limited, said his organisation is working towards finding technological means whereby farmers can develop their own seeds and store them for a long time. "One of the major agricultural problems in India today is unavailability of good quality seeds for the farmers. Taking cognisance of the specific needs of Uttarakhand, we are devising techniques by which farmers can produce high quality seeds for themselves," he said.
When asked how traditional pulses of Uttarakhand can be preserved and promoted, he said our emphasis is to prepare good quality seeds. "We are also working on branding the traditional foodgrains as 'nutritional seeds' in the market," he said.
Besides, the conclave also had sessions on public health and promotion of scientific communication in the hill regions of Uttarkhand.
Close Story