Uttarakhand considers plea to remove chips installed in trucks to curb illegal mining
HindustanTimes |
, Haldwani
Abhinav Madhwal
Oct 13, 2017 07:49 PM IST
The state government is considering a plea to remove radio frequency identification chips (RFIDs) from vehicles carrying sand, stone and gravel from Gola river in Haldwani
The state government is considering a plea to remove radio frequency identification chips (RFIDs) from vehicles carrying sand, stone and gravel from Gola river in Haldwani, a top official said on Friday.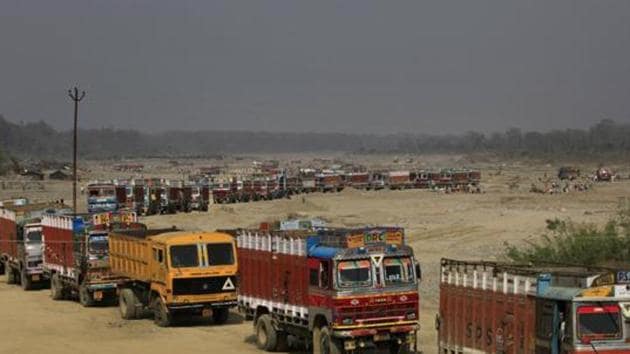 RFIDs -- a small device with a chip and an antenna -- were introduced by Forest Development Corporation two years ago to curb illegal quarrying by tracking the vehicles.
The government may a take a final decision soon on the issue following representations made before it by Gola Mazdoor Khanan Samiti.
When the chip was introduced two years ago, many quarrying operators had opposed it and sent representations before the government, said MPS Rawat, Kumaon regional manager of the Forest Development Corporation.
A year ago, Nainital's district magistrate conducted raids on quarrying vehicles after which RFIDs were made compulsory.
The regional manager said there were some technical problem with the operation of the chips but these were being sorted out.
He, however, said the bigger problem was that some quarrying operators were destroying the chip so as to continue their old ways of making more rounds of quarrying.
He said his department was now waiting for instructions from the state government about future of the chips.
Raju Bisht, president of Gola Mazdoor Khanan Samiti, said after the introduction of the chip, the government was taking Rs.10 per round of a vehicle as fees which should be removed.
The chips were technically not sound and would not work in the harsh conditions of dust in which the dumpers and other vehicles were operating, he said.
The RFID is shaped like a sticker and is pasted on a vehicle. The chip gives a beep when it enters the gate of quarry. It records the entry and exit and also displays the details of the vehicle.