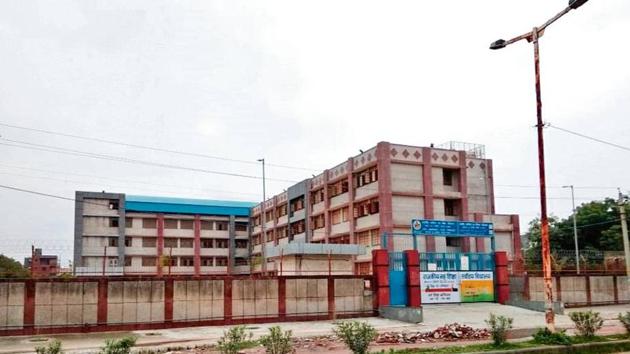 30% students at 'model' govt school in Delhi without books
Seventeen months ago, a Sarvodaya school in Rohini was hailed as example for all other government schools, but today it has fallen behind.
UPDATED ON SEP 04, 2018 08:39 AM IST
At around 2.30pm, a 12-year-old student sitting outside the government coed senior secondary school in Rohini Sector 22, was hurriedly copying a poem on her notebook from her classmate's English textbook. As she rushed through the task, her classmate patiently waited her to finish.
The class VII student at the school has to do the same thing every day after class because she has not received textbooks for any subject — which were meant to be provided by the school administration — even as the ongoing academic session has entered in its sixth month.
The Sarvodaya school, which started functioning in April last year was hailed as an example for how government schools should be run in the Capital and across the country. Not only did it have a spanking new building with a playground, no vacant posts for teachers, and a supply of books and study materials.
The school had become so popular that at least 800 students had moved from private schools in the vicinity to this school, according to the school administration, the Delhi government and parents of students, because of better facilities available free of cost.
But, school officials and parents say that, 17 months later, the school is fast becoming like any other government institution in the city, with 'guest teachers' being hired to fill regular teaching posts and about 30% of the students between Classes VI and VII not receiving textbooks and other study material that they are entitled to under the Right to Education (RTE) Act, 2009.
"I have to copy everything taught by the teachers during the classes as I don't have textbooks to read at home. I like reading. I have copied this poem today. I will read it out to my younger sister at home," said the student cited above. She was studying in a private school in the neighbourhood until last year and had moved because of the facilities available at the Rohini government school.
"I have to wait for her to complete her work every day. The class teacher told me that the books will come by the end of this month," said the student's mother.
Other parents complained of the same problem. "I have come here to meet the principal to know about the status of my grandson's books. He has to go at his friend's place every day for whatever work he gets at the school. The officials say that my grandson will not fail the exams as there is some policy for it. But what will he learn without books?" said the grandfather of a Class VIII student who is among the 20 students in his class who has not received textbooks yet.
As per the section 8 (1) of the Delhi RTE rules, students studying at government schools are entitled to free textbooks, writing material and uniforms up to Class VIII.
Officials at the school say they have provided books to around 80% students. "Only those who got late admissions are yet to receive text books. We do not have exact number of such students. This year, we got unprecedented number of admissions. The strength is almost doubled from last year's tally of 1,000 admissions," said an official who asked not to be named.
The school was also struggling with inadequate staffing till late July. "The school was not ready to cater the needs of so many students. Until July,it was struggling with shortage of teachers. The teachers were taking combined classes of different sections. We had received complaints from parents and then raised it with the school authority.The problem was fixed after the government deployed 15 guest teachers in August," said Satyprakash, convener of the Delhi chapter of All India Parents Association, who has been visiting the school since last year.
Officials at the Directorate of Education (DoE) accepted there was a problem with the supply of books and contended that it had been caused due to a delayed request by the school.
When contacted, Delhi's education minister Manish Sisodia said that he will look into the matter. "As per my knowledge, we have streamlined the supply of books which was conventionally late every year. But, in this case, I will have to inquire and fix where our system is still failing," Sisodia told the Hindustan Times.
Experts working in the field, however, said the situation was similar to what was faced by several other government schools. "This is just one example. Thousands of students studying in Delhi government schools are waiting for books. We have been receiving such complaints on a daily basis. How do they expect students to study without books?" said Khagesh Jha of social jurist, an education NGO.
There are 1,024 government schools in Delhi where 15 lakh students are enrolled.
Close