'A room of our own, clothes for kids': What Delhi's homeless want in 2018
Jan 02, 2018 03:02 PM IST
Around 13,000 homeless people stay in government shelters in Delhi while approximately 6,000-7,000 people still sleep in the streets. New Year means little to them. They say they have to plan for one day at a time
Amid the fog on New Years' Eve, hundreds of men, huddled in blankets, are assembled in an open ground near Nigambodh Ghat in north Delhi to watch 'Ek Tha Tiger' being projected on a screen.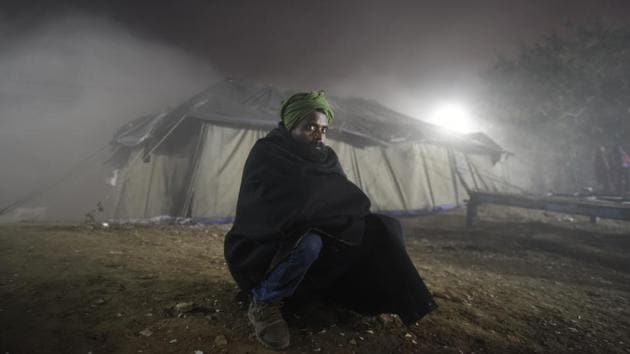 "I don't particularly like Salman Khan, but this is what they're showing, so I will make do. I don't really get to watch movies on a big screen often," said 31-year-old Heera Joshi, from Azamgarh in Uttar Pradesh.
Heera is one of the approximately 20,000 homeless men, women and children living in Delhi. The movie screening has been organised as part of a New Years' Eve celebration for them.
However, others at the shelters appeared nonplussed and have retired for the night. Many have not even bothered coming out of their portacabin shelters.
"For us, it is always about the 'new day', not the 'new year'," says 30-year-old Rajesh Yadav with a resigned smile. Rajesh is a migrant worker from Madhya Pradesh staying in one of the 10 portacabin shelters in the area.
Each shelter has mats lined on the floor within an inch of each other to accommodate up to almost 300 people.
New Years' Eve was the coldest day of the season in the capital with the mercury dipping to 5.7 degree Celsius. Even today, there are around 13,000 people staying in the shelters, while approximately 6,000-7,000 people are still sleeping in the streets, according to a Delhi Urban Shelter Improvement Board (DUSIB) official. This is despite the fact that the 257 DUSIB shelters in Delhi have a capacity of 20,534 people.
Celebrations and aspirations for the New Year are not their primary concerns. Many of them are daily wage earners who face terrible job security; many others face personal battles with addiction; and the prevalence of communicable diseases at the shelters hovers in the minds of everyone there.
But despite that, some of them say they have big hopes for 2018: a room of their own, new clothes for their grandkids, an education.
A ROOM OF THEIR OWN
Rajesh Yadav says he ran away from home at the age of 10, and since then he has been homeless in Delhi sustaining himself by doing odd jobs. Mohammed Shafeeq, 35, is his neighbour at the shelter who arrived only two months ago.
Neither of their families know they spend their nights at homeless shelters.
"I buy a new pair of pants and a shirt for a hundred rupees before going home. My family back home think I have a good job here. That I am raking in the big bucks and have a room of my own," says Yadav.
While Shafeeq expresses apprehension about his family's reaction, Yadav appears to be battling with the scars of his crushed dreams. Like many others, Yadav came to Delhi in the hopes of landing a "good job".
"When I was 10, I was not sure what a 'good job' meant. I just wanted to return home after saving some money and gloat in front of my elder brother and other villagers," he said. "I started drinking when I had to sleep outside in the cold. Now I drink regularly."
Addiction is another major problem among the homeless, according to Devesh Gupta of Prayas, an NGO that manages 36 of the DUSIB shelters. Many turn to substances to deal with the cold winter, which can be particularly brutal for those living with no heating.
Though Yadav appears to have resigned himself to fate, Shafeeq is hopeful about the future.
"I don't want much from next year. I just want to be able to get out of (the system). I just want to be able to afford a room or at least a bed in a shared room somewhere. I don't feel comfortable here. Many are here out of habit. It is convenient for them. There are no expenses so they can spend their money on drugs," he said.
NEW CLOTHES FOR HER GRANDKIDS
Shanti has been in Delhi for a little over two weeks. She came here from Moradabad with her three grandkids to save them from her "abusive" alcoholic son.
"Once my daughter-in-law passed away, I came here. My son drinks. And then hits the children as well. So I took them away," she said. Shanti, who is not sure whether she is 60 or 70 years old, earns ₹50- 250 a day by collecting and selling scrap.
With that income, she can't afford a living space, or to send the kids to school. The four live at a women's night shelter near the Hanuman Mandir in Yamuna Bazar.
When asked about her dreams for the future, she rummages through her belongings and produces a bright blue salwar kameez. "I got this at the mandir. Somebody gave it to me. This is what I want. Clothes for my kids," she explained.
AN EDUCATION
The 20-odd boys at the Mori Gate shelter home are excited about their New Year plans. They are being taken to the India Gate and the zoo. "We are going to have a dance party too," the children exclaim.
Satyam Kumar Sharma, a 15-year-old shelter resident, ran away from his home in Noida, and came to the Mori Gate shelter on his own. The caretaker at the shelter, Ravi Kumar, said that Satyam speaks of an abusive mother. "He told us that his mother had remarried, and since then, would beat him up. Though it isn't clear, he may not have been able to go to school there either," Kumar said.
Satyam's hope for 2018 epitomizes the dream of a better future that many arrive in Delhi with — he wants to become a doctor. He came to Delhi three months ago, and is hoping to get enrolled in school the next academic session.
"I used to go to school in Delhi. I want to go back to school. I want to become a doctor. That is what I hope 2018 brings," he said.