As summer blackouts continue, Kejriwal renews call to penalise discoms for power cuts
Electricity consumption touched 6,526 MW on Tuesday afternoon as temperatures soared in New Delhi.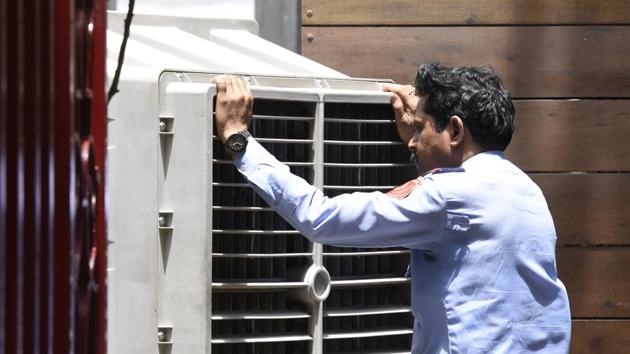 Updated on Jun 10, 2017 04:48 PM IST
With power shortage haunting residents of the national capital again, chief minister Arvind Kejriwal has revived his government's proposal to penalise distribution companies for unscheduled cuts.
Electricity consumption touched 6,526 MW on Tuesday afternoon, surpassing the previous day's record of 6,361 MW. This development threw power utilities into a tizzy, even as consumer complaints increased by nearly four times over a period of one week.
Alarmed by the spurt in blackouts across the capital, Kejriwal again brought up the proposal despite the Delhi high court striking it down last year on the grounds of not acquiring then lieutenant governor Najeeb Jung's nod. The proposal, which mandates monetary reimbursements ranging from Rs 25 to Rs 100 per hour for households if distribution companies – or discoms – fail to take corrective measures against power outages lasting over two hours, will be taken up at his weekly meeting with lieutenant governor Anil Baijal on Wednesday.
Data accessed by HT revealed that as many as 11,612 power-related complaints were registered by Delhiites from 6 am on June 5 to 6 am on June 6 alone. Of these, 37 pertained to outages that lasted from two to six hours. Officials said the city's three discoms receive around 4,400 complaints on a typical peak-summer day.
Cracking the whip on power utilities, deputy chief minister Manish Sisodia said discoms will have to inform consumers about both scheduled and unscheduled power cuts in advance through SMSes and messages posted on their respective websites.
While government officials said the power demand this season could touch 6,750 MW, Sisodia maintained that the Delhi government has made arrangements to meet a demand of up to 7,500 MW. He attributed the outages to local faults such as tripping of transformers and distribution cables due to overheating, and damages done by other agencies while carrying out development projects.
In his directions to chief secretary MM Kutty, Kejriwal has also sought that the capacity of discom call centres be increased to handle public complaints. "The chief minister has asked the power department to record, transcribe and analyse each complaint call for public satisfaction. He has sought a report on outages every day at 11 am," Sisodia said.
Experts, however, believe the government should prioritise ways to curb power consumption by Delhiites. "A hike in power demand is expected from a city with an increasing population. However, spreading awareness on power conservation – including the use of energy-saving gadgets – is the need of the hour," said Anumita Roychowdhury, executive director, Centre for Science and Environment.
Close Story