Delhi govt says victims of accident, fire, acid attack will get free emergency care at pvt hospitals
The Accident Victim Scheme under which the government will pay for emergency treatment was approved by the Delhi cabinet on Tuesday.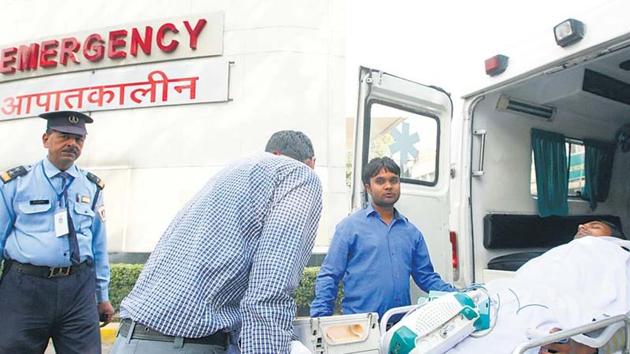 Updated on Dec 13, 2017 05:47 PM IST
The Arvind Kejriwal Cabinet on Tuesday approved the Accident Victim Scheme under which the Delhi government will pay for the emergency treatment of road traffic accident, fire and acid-attack victims at private hospitals equipped to handle trauma cases.
The move is aimed at encouraging private hospitals to treat all trauma emergencies and not refer accident victims who cant pay to government hospitals .
"Currently, bystanders, police and our own ambulances take accident victims to government hospitals, even if there is a private hospital nearby. This scheme will ensure that accident victims reach a hospital – government or private – within the golden hour, the first-hour after an accident when the chances of survival are the highest," said Delhi health minister Satyendar Jain.
Hindustan Times broke the Accident Victim Scheme story in March this year when the health department had first formulated the plan.
"The scheme will be implemented soon, after an approval from the L-G," the minister said at a press conference.
A person need not be a resident of Delhi to avail the benefits. "If the accident has happened on a road in Delhi, that is, it falls under the jurisdiction of Delhi Police, we will pay for the treatment; even if the person is from another state or country," said Jain.
The government had selected about 230 private hospitals in the city with more than 20 beds and intensive care units as the ones that are equipped to deal with such emergency cases.
Under the plan, the state government will foot the bill for emergency aid, surgeries and two-week hospital stay in economy or similar budget-category beds and wards. If the patient needs to stay in hospital for a longer period, the regional director of health services can extend the benefit, the health minister had earlier said.
Private hospitals must provide details of all road accident, burns and acid attack victims under their care within 12 hours of admitting them. The patient's papers, including medico-legal documents, should be submitted to the government to get the free treatment.
Nearly 8,000 road traffic accidents involving 15,000–20,000 people take place every year in Delhi. More than 1,600 people die and several others are permanently disabled in these accidents, the minister said.
Close Story