List of unhappy members is very long: AAP founders
Hours after Ashish Khetan announced his resignation, expelled AAP leader Prashant Bhushan indirectly criticised party supremo Arvind Kejriwal for the internal rift.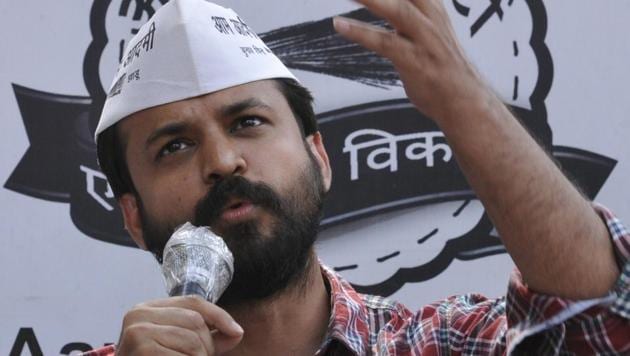 Updated on Aug 23, 2018 02:42 AM IST
For former Aam Aadmi Party (AAP) members, Ashish Khetan's exit from the party on Wednesday came as another addition to the "very long" list of functionaries "bitterly disillusioned" by its top leadership.
Hours after Khetan announced his resignation, expelled AAP leader Prashant Bhushan indirectly criticised party supremo Arvind Kejriwal for the internal rift. "The list of those who founded AAP or joined it with great idealism, but left, bitterly disillusioned, is long, very long. It was a moment of great hope. All destroyed by the unscrupulous ambition and lack of vision of 1 man," he said.
A party functionary close to Khetan said he "could not see himself grow in the set-up" any further. "After the choice for the Rajya Sabha seats and more recently, Lok Sabha in-charges, Khetan's role became limited. Just like Ashutosh, Ashish also faded after AAP nominated Delhi businessman Sushil Gupta and chartered accountant ND Gupta for the vacant Rajya Sabha seats from Delhi along with senior leader Sanjay Singh," the member said, adding the party could have utilised his capabilities in some meaningful way.
A section in the party claimed Khetan and Ashutosh were also unhappy to not find their names in the list of people in charge of five out of the seven Lok Sabha seats in Delhi for the 2019 general elections. Atishi Marlena, advisor to deputy CM Manish Sisodia, Raghav Chadha, AAP's national spokesperson and party leader Pankaj Gupta were among those chosen.
Khetan, however, refuted this claim, calling it an "unfortunate rumour". "The party had asked me to contest the upcoming Lok Sabha elections, but I had politely turned it down. Contesting one more election would have further entrenched me in the world of politics, something I don't want at this point," he said.
But he remained silent on the issue of AAP's choice for the two Rajya Sabha seats.
AAP maintained everything "normal" between the party and him. "Khetan's exit is no surprise as he has been talking about it with the top leadership since the past six months or so," said AAP national spokesperson Dilip Pandey, who in charge of the North East Delhi Lok Sabha seat.
In 2015, when the AAP leadership faced a bitter fallout with its three founders – Yogendra Yadav, Prashant Bhushan and Anand Kumar – Khetan was among the first to side with party chief Arvind Kejriwal.
As dissidence and discontent continues with leaders such as Kumar Vishwas and Ashutosh drifting away, Yogendra Yadav, founder of Swaraj India, said the resignations were "clearly" more than for personal reasons.
"In our case, the reason for exit was not power. But, now the dynamics of the party is different. AAP is functioning in no different way than any regional party. It is no longer about principles anyway," Yadav said.
In the 2014 Lok Sabha elections, Khetan had unsuccessfully contested from New Delhi. He became one of Kejriwal's closest aides and was appointed vice-chairperson of Delhi Dialogue and Development Commission, an advisory body of government.
But Khetan himself was unhappy with its functioning. While quitting as its V-C in April this year, he had said "the pace of work slowed down" in the second half of its three years. At that time, however, he had also said, "I will work more effectively for the party now because I am no longer holding a post in the government." "Clearly, Khetan was not content. All three — Ashutosh, Khetan and Kumar Vishwas — moved on because they realised it is the end of the road," said former AAP leader Anand Kumar.
Close Story