Many private schools in Delhi reject EWS entries even as 13,000 seats remain vacant
Oct 18, 2018 10:09 AM IST
According to records of Delhi's Directorate of Education (DoE) , of the 48,122 seats reserved under the so-called economically weaker section or EWS category in private schools at the entry level, only 35,500 seats have been filled.
Almost 13,000 nursery seats reserved for children from economically disadvantaged households in private schools in the 2018-19 academic session remain unfilled in the city with less than two months remaining for the start of the admission process for the next session (2019-20).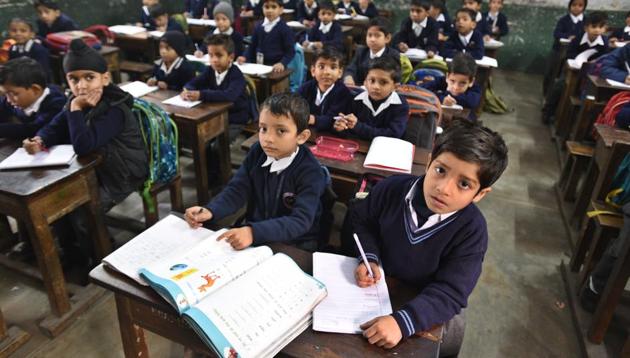 According to records of the Directorate of Education (DoE) , of the 48,122 seats reserved under the so-called economically weaker section or EWS category in private schools at the entry level, only 35,500 seats have been filled. And according to a recent report submitted by the Delhi Commission for Protection of Child Rights (DCPCR) to the DoE, as many as 74 private schools did not admit even a single student under the EWS category in the last two academic sessions.
The schools have given a variety of reasons for refusing admission: no vacancies; the school being too far from the home of the child seeking admission; or that even general category seats are yet to be filled. The sixth round of admissions is still underway.
In some cases, parents this correspondent interviewed alleged that private schools denied admission to their wards even after their names appeared in the selected lists. DoE's response to this is that many such families do not report for admission even after the names have come up in the draw of lots and the selected names are displayed on the DoE website. DoE, which comes under the state government's education department, releases the list of selected candidates.
Sanjay Goel, director of the DoE, said, "All these seats are vacant in less popular schools. Parents are not interested in getting their kids enrolled there. We have issued multiple notices to the schools after receiving complaints from parents. We have also sent our officials in many schools for inspection and found that parents did not report there."
One parent says he and his ward reported and were turned away. "I have been making rounds to Panchsheel Public School in Badarpur since March for the admission of my six-year-old son. His name appeared for admission in Class I in the first list. However, we were told that there was no vacancy and we would be called by the school when all the general seats are filled. How can he be allotted a school where there are no vacancies?" said Tasneem Ahmed, who works in a grocery shop. He has been applying to enrol his son in a private school under the EWS category for the last three years.
"He will exceed the age limit if he does not get admission this year," said Ahmed. Children over the age of six are not eligible for entry-level admission in the EWS category.
Officials at Panchsheel Public School said there are no seats on offer. "We had only one vacancy for class I this year and we had informed the DoE about it. We do not have any vacant seat," said Bharti Mehta, principal of the school.
Similarly, Shiv Kumar, a vegetable vendor in Mehrauli, said his four-year-old son was denied admission in Deep Public School in Vasant Kunj. "I was not even given a proper reason for the denial. An official said that there was no vacancy," he claimed Officials at the school, however, denied the charges saying that all students whose names appeared in the list were given admission.
Still, there are some instances where the children have not reported for admission. This reporter met some families which did not report for admission to the schools. Many said the school was far from home. "I stay in north Delhi's Samaipur Badli and my four-year-old was assigned three schools in Dwarka, which is at the distance of 20 km from our house. How can we enrol our little one there?" asked Jyoti Kumari, a homemaker.
As per norms, children must be assigned schools within 3km range of their residence for entry level classes.
Under the Right to Education (RTE) Act, 2009, 25% of seats are to be reserved for the EWS category in entry-level classes — nursery, KG and I — in all private schools. Despite receiving over 100,000 applications every year, thousands of seats go vacant. As per the affidavits submitted by DoE in the Delhi high court, copies of which are with Hindustan Times, of 48,122 available EWS seats in private schools in Delhi, only 20,000 and 19,000 were filled in the last two academic sessions, 2017-18 and 2016-17, respectively.
DoE said it has set the target of filling at least 40,000 seats this year. "We are yet to complete the final round of admission and hoping to fill over 40,000 seats this year," Goel said.
Khagesh Jha, an advocate in the Delhi high court said he has filed as many as 50 individual cases on behalf of the parents denied admission this academic session. "This is a failure of DoE. Every year seats are going vacant and thousands of children are deprived of education in decent private schools. Strict actions need to taken against these schools rather than issuing circulars and notices."
Experts working for the cause said that they have also approached to the Delhi Education Minister Manish Sisodia seeking his intervention. "We have received innumerable complaints from parents who were denied admission by private schools to the education minister but to no avail. Hundreds of parents are still struggling to get their kids enrolled," said Ekramul Haque of NGO Mission Taleem.
Manish Sisodia did not respond to calls and messages despite repeated attempts.