Radhe Maa sits in SHO's chair: Delhi cop in photo suspended, probe ordered
Delhi Police SHO at Vivek Vihar police station, Sanjay Sharma, has been taken off duty. Five other policemen seen singing with self-styled god-woman Radhe Maa in another event have also been removed.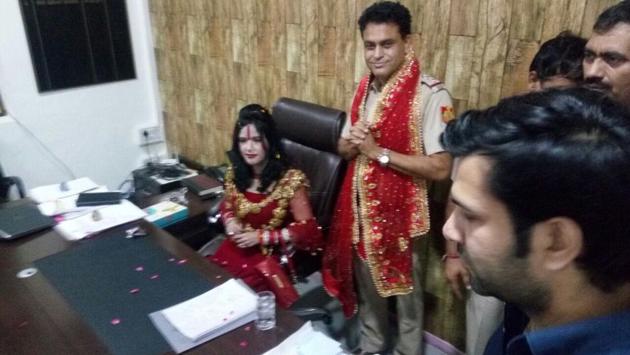 Updated on Oct 06, 2017 10:51 AM IST
Hindustan Times, New Delhi |
Shiv Sunny
Two Delhi Police officers were suspended on Thursday for "professional misconduct" in separate incidents involving controversial religious figure Radhe Maa, who was photographed seated in the official chair of a station house officer.
The widely circulated photo showed Sanjay Sharma, the SHO of Vivek Vihar, standing next to the seated self-styled 'god-woman' with folded hands with a red 'chunri' (stole) on his neck. He was in uniform.
A video also emerged showing assistant sub inspector Braj Bhushan singing into a microphone along with four other policemen at a nearby Ramlila event attended by Radhe Maa, known for her red robes and the ever-present trident in one hand.
Deputy commissioner of police (Shahdara), Nupur Prasad, said Sharma and Bhushan were suspended after a preliminary probe found them guilty of professional misconduct.
Four other police personnel were sent to the district lines, which means they will not be given any position or responsibility till a departmental probe is on.
Born in Gurudaspur district of Punjab in the 1960s, Radhe Maa , whose original name is Sukhvinder Kaur, rose from a tailor to a self-proclaimed religious leader. She is battling a dowry harassment case registered by a woman whose family is reportedly devoted to her. She featured in a list of 14 "fake saints" released last month by the Akhil Bharatiya Akhara Parishad (ABAP), the apex body of Hindu seers.
Referring to the SHO's case, the police said both the photograph and the video were taken on September 28.
SHO Sharma defended himself when Hindustan Times reached for his comments, saying he requested Radhe Maa to leave his office when she sat on his chair.
He claimed Radhe Maa was on her way to a Ramlila event in the neighbourhood and came to his police station only to use the toilet.
Read: Ram Rahim, Asaram, Radhe Maa on list of 14 'fake godmen' released by Hindu seers' group
"She occupied my chair for a few minutes... I folded my hands and requested her to leave the office... She is a religious figure," the SHO said. The incident happened around 11.30 pm.
"There were at least 15 people accompanying her. All this got over in less than 5 minutes," the SHO added.
One of her devotees, Rupendra Kashyap, too said Radhe Maa had unknowingly sat on the SHO's chair.
Though he clarified he was not speaking as an official representative of Radhe Maa, Hindustan Times was asked to contact Kashyap by a person who answered a phone number on her website.
"Radhe Maa did not know the chair belonged to the SHO. When the SHO told her she was sitting in his chair, she immediately vacated it and we left," he added. He said the chunri was wrapped around the SHO's neck by an accompanying devotee.
The video from the Radhe Maa event, which the policemen in uniform, was posted on the official Facebook page of Radhe Maa on Tuesday but was taken down after Sharma's photograph was shared on social media.
"The matter has been taken very seriously and an inquiry at the additional DCP level has been initiated to look into the circumstantial and unprofessional conduct of the SHO and other policemen," said Deependra Pathak, chief spokesperson of the Delhi Police.
The incident drew widespread criticism, especially on social media.
"Will the SHO allow any other passerby to use washroom in his office? Influence of so called God women is visible (sic)," tweeted, Muktesh Chander, the DGP of Goa. He had earlier served as chief of Delhi traffic police.
The incident came amid growing demands for a crackdown on self-styled religious leaders, who have millions of followers, including politicians and filmstars. Many of the controversial figures are accused of different crimes including cheating, fraud, murder and rape.
In August, self-styled godman Gurmeet Singh – who used the name of Baba Ram Rahim Gurmeet Singh Insan – was sentenced to 20 years in jail for raping two women. Another religious leader, Asaram, and his son are in jail, facing rape charges.
Close Story