Vajpayee came to Delhi to edit a paper, ended up leading the nation
Atal Bihari Vajpayee came to Delhi four years after the Independence to edit a newspaper and ended up leading the nation from here, recalled veteran Bharatiya Janata Party (BJP) leader Vijay Kumar Malhotra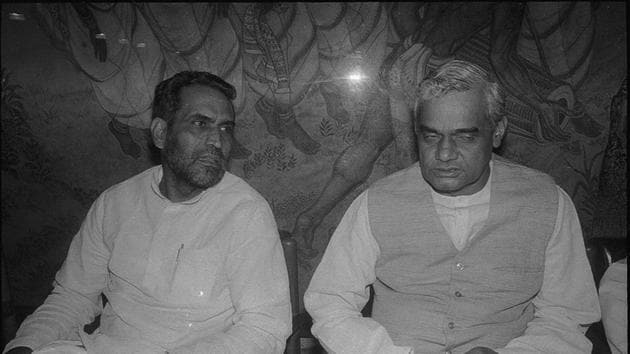 Published on Aug 18, 2018 03:13 AM IST
New Delhi
Atal Bihari Vajpayee came to Delhi four years after the Independence to edit a newspaper and ended up leading the nation from here, recalled veteran Bharatiya Janata Party (BJP) leader Vijay Kumar Malhotra.
Malhotra, who had a long association with Vajpayee, remembered how they started out together, first as journalists and then as colleagues in Bharatiya Jana Sangh, the earlier avatar of the BJP. Vajpayee was one of the founding members of the Jana Sangh, he said.
"He came to Delhi to join Veer Arjun as the city editor in 1951. I was a sub-editor. He left the paper in 1953 to work with Syama Prasad Mookerjee. After he won the first Lok Sabha election from New Delhi seat in 1957, he remained in the city and used to attend all significant events of the Jana Sangh," said Malhotra, who was deputy leader in Lok Sabha during 2004-09.
"(LK) Advaniji and Deen Dayal Upadhyayji came to the city years later," he added.
Vajpayee contested and won two elections from New Delhi Lok Sabha seat. The first time, it was on a Bharatiya Lok Dal ticket in 1977 and then, in 1980 as the candidate of the Janata Party.
Remembering Vapayee's influence and respect among party workers, Malhotra said in case of difference of opinion, it was the former PM who took the final call.
"Everyone would respect his views. His popularity in Delhi can be gauged from the fact that the party used to organise 10-15 meetings in a day during the elections. To draw the crowd to his rallies and elections meetings, we did not require posters or any publicity. He would speak for about an hour sometimes while other big leaders finished within 10-15 minutes," Malhotra said.
Before big rallies at Ramlila Maidan, he was invited to speak at Hauz Qazi and Bara Tooti Chowk in Sadar Bazar, said Malhotra, who was Chief Executive Councillor of Delhi's Metropolitan Council (a post equivalent to chief minister) in 1967.
"He was present in the meeting at Arya Kanya Pathshala at Gole Market where Jana Sangh was founded and also in the BJP's first meeting at Bahadur Shah Zafar Marg in 1980. He was at the forefront when 'Gau Raksha' movement took place in Delhi in 1967," said Malhotra.
Malhotra said Vajpayee's popularity ran as far as Pakistan.
"It was Atalji who started Delhi-Lahore bus service. He began efforts to improve ties with Pakistan. This earned him respect among people in the neighbouring country. One of the Pakistani diplomats once told me that Atalji was very popular in his country and he could have even won an election there," he said.
Close Story