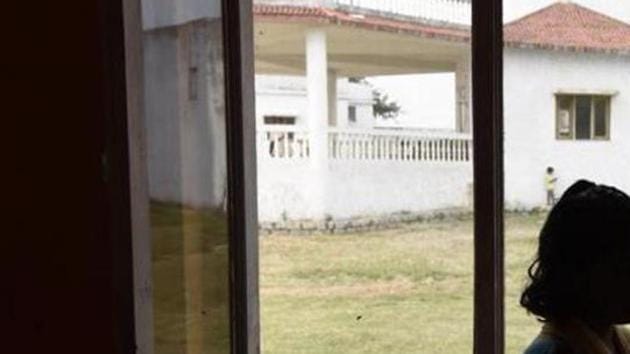 Delhi's house of horrors: NHRC issues notice over abuse of teens at shelter home
National Human Rights Commission took cognizance of HT report that girls alleged abuse at Delhi's Nirmal Chhaya shelter home. Rescued girls alleged that they were molested, beaten and injected substances, which they claimed were causing irregular growth in their body.
UPDATED ON MAY 03, 2017 04:25 PM IST
The National Human Rights Commission on Tuesday took suo motu cognisance of a Hindustan Times report about the alleged torture and abuse of teenage girls in a government shelter home in west Delhi.
HT in its May 1 report —Girls alleged abuse at Delhi shelter home — had reported that teenage girls were molested, beaten and injected substances, which they alleged were causing irregular growth in their body.
The NHRC issued notices to the Delhi government's chief secretary and police commissioner seeking a detailed report on the matter within four weeks.
"….The contents of the news report, if true, are disgusting and indicative of gross negligence on the part of the Department of Social Welfare of the Government of NCT of Delhi. Shelter houses are aimed to provide safe and secure environment to its inmates along with skill training so that they could earn a living after leaving it," the press statement read.
"Such a barbaric treatment to young and teenage girls in a shelter home is the worst example of violation of human rights. The Right to Life and Dignity of the victims have been grossly violated," it read.
At least 10 girls have accused the government officials in the house of beating them. The teenagers alleged they were stripped and their "body parts pressed inappropriately" whenever they left the shelter. The Delhi Police have filed an FIR under sections of hurting by poisoning, criminal intimidation, hurting and criminal conspiracy along with sections of the Juvenile Justice Act.
Police said they are probing the matter and have sent the medicines, allegedly injected into the teenage girls, for forensic examination. Police are also questioning the employees working in the shelter.
The Delhi government has also ordered an inquiry into the conduct of the employees at the house. Deputy chief minister Manish Sisodia has ordered the transfer of the officials, including the superintendent.
Close