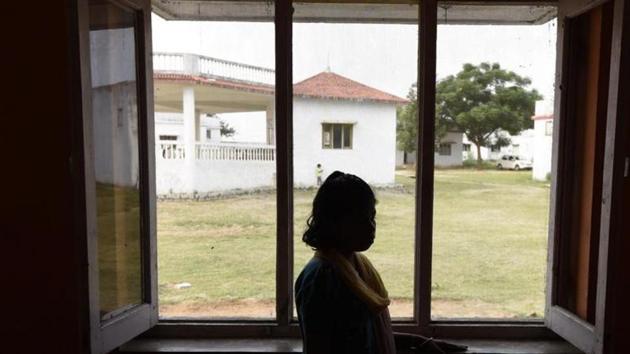 Delhi house of horrors: Six shocking allegations from shelter for teenage girls
A group of girls who were allegedly sexually abused and tortured at a Delhi government shelter home said they were made to strip and denied sanitary napkins. The girls, mostly homeless or rape survivors, had told the police that they were regularly tortured and abused.
UPDATED ON MAY 03, 2017 10:23 AM IST
A day after Hindustan Times published a story on about the alleged human rights violations in a government-run shelter for teenage girls, the Delhi government on Tuesday transferred six officials of the shelter.
The girls, mostly homeless or rape survivors, had told the police that they were regularly tortured and abused. They also accused officials of stripping them when entering or exiting the home.
Delhi Police have registered an FIR and are probing the allegations. Medicines found in the shelter are being taken to a forensic science laboratory for testing. But no arrests have been made yet.
Here are six allegations made by the girls living in the house of horrors:
1) Minors girls, mostly homeless and rape survivors, alleged they were stripped and searched every time they left or entered the shelter premises.
2) Two girls attempted suicide on March 21 by consuming phenyl. Another tried swallowing glass pieces to end her life. The girls, who attempted suicide, were allegedly beaten instead of being rushed to hospital for treatment. According to Delhi Commission for Women chief Swati Maliwal, the three girls, are not in the house any longer.
3) The girls alleged that medicines were mixed in their food to make them drowsy. Several girls reported they were injected medicines, which caused body pain and irregular periods. One girl alleged her period lasted for 15 days after taking the injection.
4) There was only one cook for 140 inmates, and some girls alleged they were forced to cook instead of being sent to school. There were no locks in the bathroom, and some girls said they were not given soap or shampoo.
5) The teenagers reported they were not given sanitary napkins. They also accused house officials of stripping them to check if they were menstruating.
6) Allegations of beating and torture by officials were levelled by girls less than 10 years old. Some alleged they were beaten for trying to report the conditions in the state-run shelter home.
Close