Delhi: Man with two wives locks one in room, beats, tortures, beheads other
Gruesome murder: Subodh Kumar suspected his wife of having an extra marital affair, beat her up with a wooden stick for 12 hours, injected painkillers into her and when she died, beheaded her with a saw.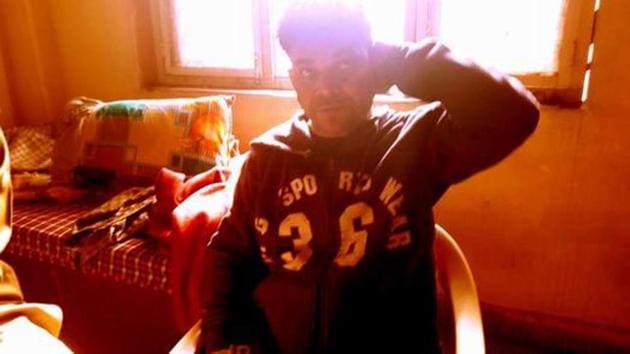 Updated on Mar 27, 2017 10:52 AM IST
A 40-year-old man who suspected his wife of having an extra marital affair beat her with a wooden stick for 12 hours, injected painkillers into her and when she died, beheaded her with a saw. The ghastly incident was reported from east Delhi's Madhu Vihar on Friday night.
Police said Subodh Kumar, a plumber, planned to torture his wife and bought a wooden stick on Wednesday to beat her up. On Friday evening, he reportedly came home drunk and picked up an argument with her.
Sources said Subodh also has a second wife. He had two daughters from his first wife and a two-month old daughter from his second wife. All of them stayed in the Madhu Vihar house together.
He beat her all night
"On Friday night, Subodh came home and asked his second wife to go inside a room with their child. He locked the door. He then called his first wife and asked her to name her 'lovers'. When she told him that she had none, he started beating her up with the wooden stick," a senior police officer said.
Police said Subodh beat her up all night. "He tortured her by beating her mercilessly with a stick. He refused to give her water and kept her awake for 12 hours. He smashed her head into the wall a dozen times till she started bleeding," a police officer said.
When his wife fainted and stopped screaming, he went to a local doctor, a quack, and asked him to inject painkillers.
"He told us he was so angry that he could not stop beating her. When she fell silent, he went to the doctor. The woman, however, could not survive and succumbed to her injuries on Saturday morning," an investigator told HT.
Sources said his two daughters from the first wife were at home and when they intervened, he locked them up inside the same room where he had locked the second wife and child.
The plan
The next day Subodh allegedly planned to cut the body into pieces and then dump it at separate locations.
"He told us that after he realised she has died, he made a plan to dispose of the body. He sent his second wife and daughters to Jharkhand and then returned to dissect the body. He took a saw he used for plumbing and cut the head off. He put it in a bag and was planning to dump it into the Yamuna," a police officer said.
By this time, the woman had already been dead for 72 hours, and a foul smell started emanating from the house. This prompted the neighbours to call the police.
The police broke open the door and found the dissected body inside."Subodh said he planned to dispose of the head in the Yamuna and then the limbs, arms, torso and legs at separate locations. He said he had bought separate bags to pack the body parts and planned to dispose them over a week so that he is not caught," an investigator said.
Subodh told the police that his first wife had started objecting to the presence of his second wife inside the house, which enraged him. "He said the two women often fought with each other," a police officer said.
"We have registered a case of murder and are questioning him. Investigation is on," Om Vir Singh, DCP East, said.
Close Story
Personalise your news feed. Follow trending topics