Bengal violence: Mamata Banerjee should do some soul searching
Updated on Jul 11, 2017 12:53 PM IST
In the past few years, the CM has braved criticism to highlight her presence in all religious gatherings, which was exploited by her opponents to spread the word that she was unduly soft towards the minorities. Impressions also fast gained ground that the administrative machinery went soft towards the Muslims.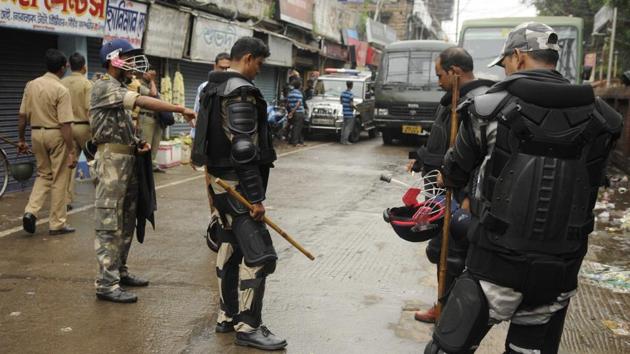 As many as 11 incidents of communal flare-ups in 10 months do not cover any administrator in glory, and if it happens to be in West Bengal, a state which has been relatively free of communal clashes in the past few decades, the questions become all the more important. While the administration is struggling to bring the violence under control in Basirhat that started on July 2, questions are bound to arise on whether some of chief minister Mamata Banerjee's decisions have contributed to preparing the ground for communal tension.
After the verdict in 2011 proved that Muslims decisively swung away from the Left in the favour of Trinamool Congress, the Bengal CM decided to woo representatives of the minority section with sops, a move which attracted criticism.
She announced honorariums for imams and muezzins and homestead land for imams. The measures met with criticism not only from the saffron camp, but also from politicians, academics and the intelligentsia. They argued that such steps would disturb the delicate social balance between the two communities.
In April 2012, less than a year after coming to power, the government announced a monthly allowance of Rs 2,500 for imams. Later an amount of Rs 1,000 was also announced for muezzins who deliver azaan. The court disapproved of it, describing the step as unconstitutional.
In the past few years, the CM braved all criticism by being present in all religious gatherings. Her opponents accused her of being unduly soft towards the minorities. Impressions also fast gained ground that the administrative machinery was soft towards the Muslims.
This was utilised by her opponents to create the impression that she did not care for the majority religious sections. On Thursday, locals vandalised the house of the local Trinamool Congress MLA and a former popular footballer, Dipendu Biswas, in Basirhat, and also a ruling party office. Only a year ago, he won by 20,000 votes in the assembly polls. In North 24 Parganas district, the TMC trounced opponents in 27 out of 33 constituencies. In Bengal she has 211 MLAs in a house of 294.
It is not difficult for the chief minister to read where her magic failed.
She should not blame everything on a class 11 student, or on 'conspiracies' against her government.