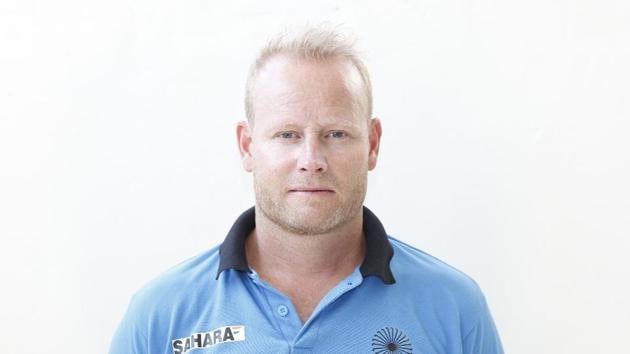 Hockey India's appointment of Sjoerd Marijne as men's coach defies logic
Hockey India have pulled off a surprise and appointed Dutchman Sjoerd Marijne, the head of the women's team, as coach of the men's hockey team after Roelant Oltmans was dismissed from the post. Harendra Singh will take over as the women's team's high performance specialist coach.
UPDATED ON SEP 09, 2017 09:15 AM IST
One has to commend Hockey India for its consistency --- at defying logic that is. While its tradition of sacking coaches out of the blue is well documented, the naming of the new men's team coach --- Dutchman Sjoerd Marijne --- has taken the eccentricities to another level.
On Friday, Union sports minister Rajyavardhan Singh Rathore, through a series of tweets, announced Sjoerd -- who has been in charge of the women's national team -- as the new chief coach of the men's squad. Harendra Singh, who led the junior boys to the World Cup title at home last year, has been appointed as the 'high performance specialist coach' of the senior women's team.
The decisions were made by Hockey India in consultation with Sports Authority of India and the Sports Ministry.
While the appointment, coming days after it was announced that applications have been invited for the post of the men's coach (left vacant after Roelant Oltmans was sacked unceremoniously last week), leaves a lot of grey, the logic or criteria behind Sjoerd's selection is questionable, to put it mildly.
India going Dutch?
It seems Hockey India was in a rush to name a new coach and the simple logic applied here is to replace one Dutchman with another. One, despite trying hard, can't find a better reasoning!
Sjoerd was in charge of the women's squad --- ranked No 12 in the world --- since December last year. He took over from Neil Hawgood, who coached the team when they qualified for Rio Olympics, where they finished last.
The women's team's recent performances have been shaky as well -- with losses as frequent as victories, to say the least.
So, if Hockey India sacked Oltmans because the men's team's recent outings have been poor and his vision for the future is jaded, then why hire Sjoerd, whose track record has been not that spectacular, either.
The Harendra logic
Appointing Harendra Singh to guide the women, with a very fancy designation that too, at first glance, seems like a positive move. It may indeed prove good in the long run.
However, if Hockey India was not exactly waiting for applications from the 'best in the world' (like they had claimed after sacking Oltmans), and was going to appoint someone from its immediate, dwindling pool of coaching resources, then Harendra would have been a better choice for the men's team.
After all, he was the coach who led the junior boys to the world title last year.And his rapport and understanding of the young crop of talented players would have come in handy for the senior team which will soon hit a period of transition, where juniors need to be blended in to build a squad for the future.
Besides, with Harendra, there would not have been a language barrier, a problem all foreign coaches have with Indian teams, across sports.
Instead, Harendra has been given a fresh slate, and a daunting task of planning and building.
On the other side of the fence, planning and building seems to be a distant dream for the Indian men's hockey team, which, in the last four years or so, had seen a mini resurgence.
But Hockey India's lack of vision, and questionable decisions, seems to have dragged things back to square one.
(The views expressed by the author are personal)
Close