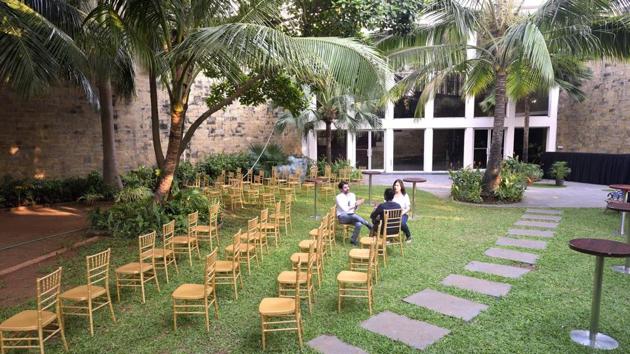 Mumbai's cultural spaces are going suburban
Because that's where the numbers and the hunger for something new are
UPDATED ON NOV 08, 2018 03:49 PM IST
Beer, music, youngsters lounging on a lawn… the first gig at the Secret Garden didn't look or feel like the National Centre for the Performing Arts (NCPA). And that was the point. We want to show our walls aren't too high, a curator said, ahead of the event.
Now here's the thing… this was a radical shift in tenor — the NCPA is famous for having an average membership age of about 90, as the joke goes — but they aren't the only ones. At Tao, the young second-generation gallerist Sanjana Shah has been holding workshops under the banner #EducateForArt. Topics have ranged from how to create minimalist art, to exploring the greats like SH Raza and Pablo Picasso. The Piramal Foundation, which runs a gallery within the NCPA, has opened up 5,000-sq-ft art space in the eastern suburb of Mulund and has begun installing major works from the family's private collection at office buildings its construction arm is putting up in Lower Parel.
Meanwhile, at informal spaces such as The Cuckoo Club in Bandra, the Tangerine Arts Studio in Khar and Tamaasha and The House in Versova, plays are being paired with hearty discounts on beverages. In a city of about 23 million, where the white-collar population has been drifting north and east for decades — a drift that has turned into an exodus as rental and purchase prices soar in the city and prime suburbs — the drive to go younger and more suburban makes sense. Because not only is that where the numbers are, that's also where there is a hunger for something different to do, something that is not movie-drinks-dinner every weekend. In a market this size, with a gap this huge — there are no large museums in the suburbs, few parks, the rivers have been default sewers for decades — it makes sense to offer introductory events and exhibitions on jazz and contemporary art, music and theatre.
What's missing from this picture? One word: Technology. Even the audio guides at our largest exhibitions in our largest museums tend to be patchy. At the Arab World Institute in Paris, short clips of drone footage combine with CGI magic to recreate the lost ruins of Palmyra, Mosul and Aleppo. You don't need to know the history, or the art; in fact, the assumption is that you don't. The admission fee for each of these was, admittedly, the equivalent of about Rs 4,000. But, given how much a single cocktail costs in our city, and given how many are consumed, wouldn't this be perfect for the hungry young inheritors of an ancient civilisation?
Close