CBSE Class 12 Physics exam 2020 analysis: What students said after the paper
CBSE conducted the class 12th physics examination on Monday, March 2, 2020, at various centers spread across the country. Lucknow and Chandigarh students found CBSE Class 12 Physics paper to be difficult and tad lengthy.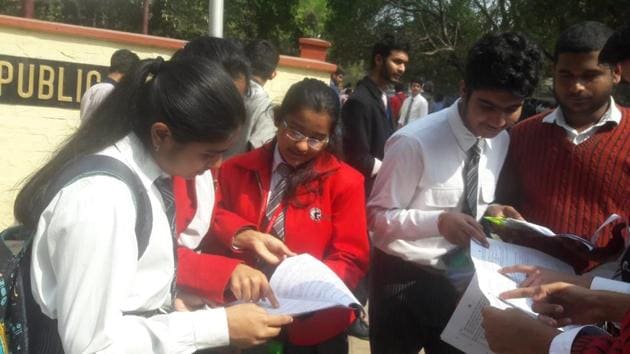 Updated on Mar 02, 2020 04:59 PM IST
Hindustan Times, Lucknow |
HT Correspondents
CBSE conducted the class 12th physics examination on Monday, March 2, 2020, at various centers spread across the country. Here is the reaction from students after coming out of the examination hall.
Lucknow
Lucknow students found CBSE Class 12 Physics paper to be difficult and tad lengthy. Some children at Navyug Radiance School found the paper lengthy. They said 2 to 3 questions particularly numerical were tough.
A good number of students of Delhi Public School, Jankipuram said question paper was not very easy.
Pulkit Saxena, a student of Delhi Public School, Jankipuram said there is no doubt that the paper was difficult. Kartikey Mishra was of the view that it was very lengthy and he could not complete or attempt all questions. "I had to left out few questions," Mishra said.
Vartul Kumar, a student of DPS said nothing came from sample paper and overall he found the question paper to be little difficult. Utkarsh Chaudhary said paper required depth knowledge and it was difficult. Another student, Adnan Qidwai said, "Paper was designed to check basic and advance concepts."
Students of GD Goenka Public School, Lucknow found some questions to be tricky and a few sections were difficult. Aditi Singh said, "Paper was good but some questions were tricky. Section B & C were difficult as compared to other sections. Overall the paper went well."
According to Ansh, "Paper was little difficult and a bit lengthy but he has attempted all the questions and is sure of scoring well." Sarvasv Pandey, a student of GD Goenka Public School, Lucknow said, " MCQs were easy but in most of the sections questions had sub questions and if one sub question was easy, the other two were difficult. Paper was difficult, but he has done the theory part well."
Absar Ahmad, another student of the same school said, "Section C was difficult, few questions were tricky and he took some time to understand and answer correctly. I have done better in other sections.The preparation done for Pre-Board examination helped a lot". Ashwini kumar said, "I found few questions difficult but anyone who has done a comprehensive study of the subject and has practised sample papers, would be able to attempt the paper with ease."
Chandigarh
The class 12 examination of Central board of Secondary Education (CBSE) was difficult, said students in Chandigarh. Many students said they were not able to complete the examination on time.
Most of the students claimed that the (MCQs) multiple choice questions as well as the 5 mark questions were much more difficult than the difficulty standard which was expected.
READ: CBSE Class 12 Physics exam 2020 question paper
Suraj Bhist, a student studying at a private school said, "I was not able to compete my paper on time. There were many numerical. It took most of my time because of which I was unable to complete the last part of the paper."
Mansi Kumari, a student at city based government school said, "I had worked hard but this paper required more effort. I hope I will get decent marks."
Even the experts backed the the claims of the students. Kuldeep Singh a teacher of physics in a government school of Chandigarh said, "the question paper was set in a manner that it was easy for students to pass the exam however it was difficult for scoring. Specially the five marks questions had more numerical content than the theoretical content which made the overall paper a little bit difficult."
Bhag Singh Kairon, another goverment school teacher said, "There were tricky and twisted questions involved in the examination this time. CBSE has made the subject more difficult than the previous years."
Kolkata
Soham Mukherjee, a Kolkata student who is appearing for CBSE class 12 examinations, said, "The Physics question paper was not easy at all but at the same time it was not too difficult. I would say the questions were thought provoking. I am quite satisfied."
Sujit Kumar Das, a physics teacher at Delhi Public School, Siliguri, said " The physics questions for class 12 exam were moderate and meant for all students, no matter weak or strong. " Viraj Sinha a examinee from the same school said "The questions came as we expected and covered all the topics."
Prayagraj
Physics teacher Jitendra Yadav at Ganga Gurukulam School in Prayagraj said that 20 objective questions, including multiple choice as well as fill in the blank questions carrying one mark each, was scoring. "The descriptive questions on different topics, including Optics carrying 12 to 14 marks, Electrostatics and Magnetic - each carrying 8 marks and questions from Electronics and Alternating Current carrying 4 to 6 marks each, was also attempted by average students. The questions were based on NCERT syllabus and students having practiced previous year question papers of the Board would have been comfortable in the exam". The pattern of question paper was similar to previous years but numerical questions on topics like Electromagnetic Induction and Magnetism, made some students struggle, said the teacher.
Kirti Kumar, a Class 12 student at Ganga Gurukulam School in Prayagraj termed the physics question paper scoring but said some numerical questions were not that easy. "The 20 marks objective questions were scoring and I also attempted numerical questions, which was a bit tough," he said. Similarly, Rishabh Mishra, another Class 12 student also answered all questions but found the numerical portions comprising of questions from Electromagnetism not that easy.
(With inputs from Rajeev Mullick in Lucknow, Srishti Jaswal in Chandigarh, Kenneth John in Prayagraj and Tanmay Chatterjee from Kolkata )
Topics
Close Story
Personalise your news feed. Follow trending topics