Jane Fonda praises RRR, fans school her as she calls it 'Bollywood film': 'It is a movie from Telugu cinema...'
Published on Jan 21, 2023 04:16 PM IST
Hollywood actor Jane Fonda showered praise on SS Rajamouli's RRR, but called it a Bollywood film in her social media post. Fans were quick to notice it and corrected her saying 'Bollywood refers to Hindi language movies'.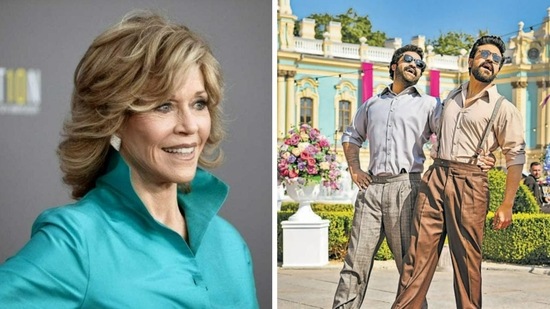 Hollywood icon Jane Fonda has seen SS Rajamouli's RRR and took to Instagram to heap praises on the film. RRR has had a dream run at the major Hollywood awards, winning the Golden Globe and Critics Choice awards for Naatu Naatu in the Best Original Song category, alongside being nominated for a host of other awards in the Best International Film category. Multiple Academy Award-winning actor Jane Fonda was the latest star to join the bandwagon when she praised the film and said that she was "transfixed" by it. (Also read: Jr NTR predicted as best actor contender for Oscar 2023 alongside Tom Cruise by US magazine)
Taking to Instagram, Jane shared the official poster of the film and wrote, "On the complete opposite extreme of the last film I recommended, To Leslie, here's another new one that took me by surprise: RRR, an Indian movie that's short listed in the Best Foreign Film category. It's a combination of Indiana Jones, a serious film about imperialism and Bollywood. I was transfixed."
Fans were quick to correct the actor and commented on her post that RRR was not a Bollywood. "Its Tollywood... but we can stick to Indian," said one fan. Whereas another said, "Not Bollywood, though. Bollywood refers to Hindi language movies." Another one wrote, "This is not a Bollywood movie it is a Tollywood movie from Telugu film field in India. Now this is called Indian cinema!" A fan even wrote a long note explaining the difference, saying: "It's not bollywood... its TOLLYWOOD... As many of the foreign countries thinking Indian cinema means bollywood... There are many industries within country where u can also see Diversity in Indian cinema... Tollywood - Telugu, Kollywood - Tamil , Mollywood - Malayalam, Sandalwood - Kannada, Marathi, Bengali, Gujarati, Assamese, Odiya, Bhojpuri, Punjabi... and other small film industries... where we make movies in our respective languages... So we are urging you not to consider Indian film as not only bollywood...."
Some fans also took note of the fact that Jane had said in the post that RRR was shortlisted in the Best Foreign Film category, which is incorrect. The submission from India was The Last Film Show, not RRR. One user wrote, "It's sad but it is not shortlisted for foreign language film India submitted another film. It eligible for Best film though and it is one of the best of the year." Nevertheless, fans were happy that so many actors and stars from the West were championing the film, where one fan commented: "I am impressed to see non-Indians using their platform to recommend and/or promote Indian productions. There are a lot of misconceptions about that industry. Thank you, Jane." Another comment read: "Because of u guys are sharing the movie to others.. RRR getting more recognition Thank You."
RRR is a fictional story set in the 1920s pre-independent era and is based on the lives of two real heroes and well-known revolutionaries – Alluri Sitarama Raju and Komaram Bheem. While Ram Charan played Ram, Jr. NTR aka Tarak was seen as Bheem. The film collected over ₹1000 crore during its theatrical run in India.
ott:10