Michael trailer: Vijay Sethupathi and Gautham Menon's film promises an extremely violent thriller. Watch
Published on Jan 23, 2023 01:52 PM IST
Michael trailer: Vijay Sethupathi, Sundeep Kishan, and Gautham Menon's film promises an extremely violent thriller. Sundeep's character is on a killing spree for the woman he loves. Watch.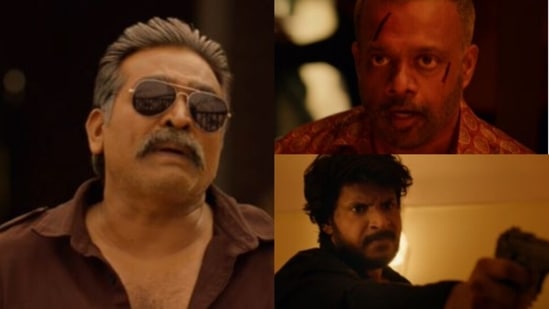 The trailer of Sundeep Kishan's upcoming multilingual film Michael, which also stars Vijay Sethupathi in a key role, was released on Monday. Going by the visuals, the film attempts to tell the story of Sundeep's character Michael, who goes on a killing spree, for the sake of a woman he loves. (Also Read | On Vijay Sethupathi's birthday, Farzi team gives fans a glimpse of his character)
The trailer opens with Gautham Menon's character talking to Sundeep (who plays Michael) about widow spiders. He goes on to say that the widow spider is so venomous that the female kills the male after the mating process.
Two quick shots later, Gautham pretty much describes the plot of the film in dialogue. He says, "Some men are destined to face only troubles because they choose to fall for the delusions of the women." The trailer shows almost every character in a dark way. Gautam Menon tries to caution Sundeep Kishan about women, but the latter feels life is meaningless without love.
Interestingly, the girl in his life played by Divyansha Kaushik warns him that if he falls in love with her, it will cause him heartbreak. The trailer concludes with young Sundeep Kishan shooting someone with a gun. We also see the menacing Vijay Sethupathi making an appearance that adds a lot of seriousness to the trailer.
It gives the impression that Michael is a raw, intense, bloody actioner with a beautiful love story and stylish visual treatment. Directed by Ranjit Jeyakodi, the film is gearing up for February 3 release in cinemas in Telugu, Tamil, Kannada, Hindi as well as Malayalam. The film also stars Varun Sandesh, Ayyappa Sharma, Anasuya, and Varalaxmi Sarathkumar in important roles.
The trailer carries a vintage feel by showing typical gangster cars, red-themed backdrops, and retro clothing. Kiran Kaushik's camerawork looks flawless and has captured the violence very well.
Sam CS's background score elevates the rawness of the movie and intensifies the effect on the audience. The score for romantic scenes is exquisite. The dialogues for the movie have been penned by Tripuraneni Kalyan Chakravarthy, Rajan Radhamanalan, and Ranjit Jeyakodi.
ott:10