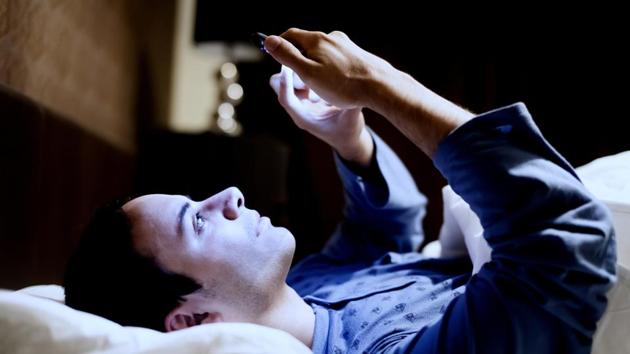 Finding it tough to sleep well? Cut down on social media scrolling before bedtime
Expert say you should try to stop scrolling through social media 60-90 minutes before bedtime. This will allow you brain to wind down and lead to deeper, more restorative sleep.
UPDATED ON JAN 06, 2018 04:34 PM IST
According to a recent research, cutting down on social media could help people in having a better sleep. Sleep expert Nerina Ramlakhan is urging social media users to cut down on the amount of time they spend on Facebook, Twitter and Snapchat as one of their New Year's Resolutions, reports Daily Express.
The research analysed the link between social media and sleep deprivation, and the results revealed the two are closely connected. The study, which questioned more than 2,000 UK residents on their sleep habits, found that 68% of Snapchat users said the platform prevented them from sleeping, with as many people admitting to waking up in the night to check their snaps. Instagram users did not fare much better, with 62% claiming that scrolling through the app prevented them from snoozing and more than half of users woke up in the night to check their feeds.
The biggest users of both networks were those aged between 16-24, with 43% of this age group admitting to never going a day without social media. The research also found that a quarter of phone users never go a day without logging on, yet almost a third said they acknowledged the benefits of a digital detox, with 27% claiming they felt "calmer" after taking a break from social media. Dr Ramlakhan said, "With the demands of modern day life, it's unrealistic to completely ban mobile devices from the bedroom, but people need to be more aware of the impact they are having to achieve a better tech-life balance. As a sleep deprived nation we'd do well to limit the amount of time we are spending on social media."
She concluded by saying, "Try to stop scrolling through social media 60-90 minutes before bedtime. This will allow you brain to wind down and lead to deeper, more restorative sleep. It is also a good idea to turn phones on silent so alerts from apps such as Facebook and Snapchat don't disturb sleep."
Follow @htlifeandstyle for more
Close