FIFA World Cup 2018: Google Doodle pays tribute to Argentina, France
Google, who has been displaying a new doodle everyday to celebrate FIFA World Cup 2018, paid tribute to the football culture of Argentina and France on Thursday.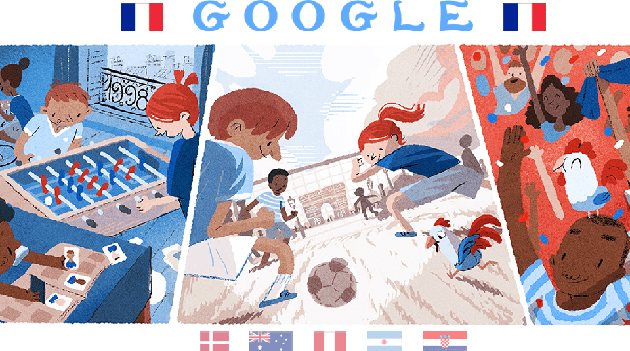 Updated on Jun 21, 2018 12:21 PM IST
Hindustan Times, Mumbai |
Ankit Kumar Singh
Google has been celebrating the spirit of FIFA World Cup 2018 through its creative doodle every day since the quadrennial event got underway in Russia on June 14.
Continuing this trend, on the eighth day of the tournament, the search engine displayed new doodles to celebrate football culture of Denmark, France, Argentina, Peru, Australia and Croatia – the six nations that will be playing their matches on Thursday.
READ | David Beckham wants to see England vs Argentina in FIFA World Cup 2018 final
The six doodles that Google came up with for the six countries appear alternatively on the browser with time. The doodle focusing on Argentina shows sky blue colour of the country's flag in the background with people engaged in various activities and of course playing football.
The doodle created for Denmark captures the country's love for cycles by showing people playing football on cycles while France's doodle features kids playing football and video games while cheering for their team.
Croatia's doodle showcases country's beautiful beaches and greenery while in the doodle for Peru, indigenous people can be seen wearing traditional clothes.
The doodle for Australia features people playing football with a koala bear.
READ | Lionel Messi the best Argentine footballer in history, not Diego Maradona: Sergio Ramos
Denmark will take on Australia in the first match of the day which will begin at 17:30 IST. The second match of the day is between Peru and France starting at 20:30 IST. Thursday's last match features a battle between Lionel Messi's Argentina and Croatia from 23.30 IST.
Google has been creating doodles for many years on the occasion of a famous person's birthday, a festival, an anniversary or any other significant event. The first Google Doodle was created by Larry Page and Sergey Brin on August 20, 1998, to remember the Burning Man Festival that the duo had attended in the same year. They created the logo to remind the search engine users that they were absent.
Close Story
Personalise your news feed. Follow trending topics