FIFA World Cup 2018 Round of 16 highlights: Russia beat Spain 4-3 on penalties
Updated on Jul 01, 2018 10:21 PM IST
Russia advance to the FIFA World Cup 2018 quarterfinals after beating Spain on penalties in their Round of 16 game in Moscow. Get highlights of Spain vs Russia FIFA World Cup 2018 Round of 16 match here.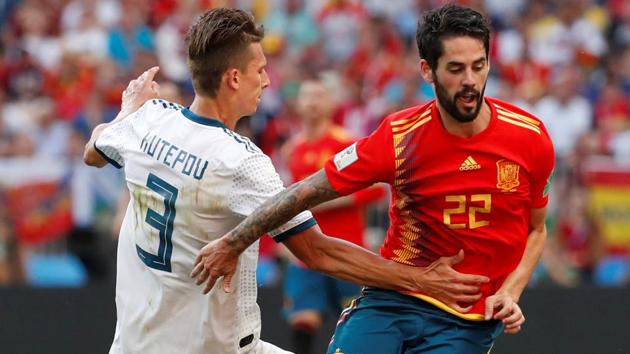 Russia beat Spain in a penalty shoot-out to move into the FIFA World Cup 2018 quarter-finals and knock out the 2010 champions in Moscow on Sunday. Iago Aspas' penalty was saved by Igor Akinfeev to hand Russia victory after a match that Spain had completely dominated. Earlier, Spain and Russia were locked at 1-1 in regulation time. The 2010 world champions dominated possession against the hosts and went ahead courtesy of a Sergei Ignashevich own goal in the 12th minute. But minutes before the half-time, the referee adjudged that Gerard Pique had handled the ball and Artem Dzyuba made no mistake from the spot to level the score for the in-form hosts in Moscow. Get highlights of Spain vs Russia FIFA World Cup 2018 Round of 16 match here.
22:22 hrs IST: Russia will face either Croatia or Denmark, who were meeting later on Sunday, in Sochi on July 7.
22:17 hrs IST: Igor Akinfeev was the hero for Russia as he pulled off two brilliant saves to beat Spain 4-3 on penalties
22:14 hrs IST: Russia have reached the FIFA World Cup quarterfinals for the first time since 1970!
22:12 hrs IST: Iago Aspas misses and Russia have beaten Spain 4-3 on penalties!
22:10 hrs IST: Denis Cheryshev scores! Russia lead 4-3 against Spain!
22:09 hrs IST: Koke misses as Akinfeev saves the shot! Spain 2-2 Russia!
22:08 hrs IST: Gerard Pique scores! Spain lead 2-1 against Russia! Earlier, Fedor Smolov scored for Russia.
22:06 hrs IST: Time for penalties. Andres Iniesta scores! Spain lead 1-0 against Russia!
22:00 hrs IST: The score between Russia and Spain remains 1-1 after extra time. This Round of 16 game will go to the penalty shoot-outs.
21:55 hrs IST: The referee goes for the VAR but the penalty request is denied. 5 minutes remaining in extra time.
21:51 hrs IST: Another attempt by Koke but the goalkeeper pulled off yet another good save. Looks like this match is headed towards the penalty shoot-out.
21:48 hrs IST: Alexander Yerokhin became the first player to be brought on as a fourth substitute during a World Cup game, going on in the 97th minute against Spain. FIFA approved the new rule in March for an additional substitute in extra time at the World Cup, but had earlier used it at youth tournaments and the 2016 Olympic football tournaments.
21:44 hrs IST: 15 minutes gone in extra time! Russia and Spain are still tied at 1-1 in their Round of 16 encounter!
21:41 hrs IST: The final change for Spain - Rodrigo comes in for Marco Asensio. Can this be the difference maker for the Spaniards?
21:39 hrs IST: A long-range shot by Marco Asensio but Akinfeev pulls off yet another save. This is not looking good for Spain as they are still struggling to find the winning goal.
21:35 hrs IST: A big moment in FIFA World Cup history -- Erokhin on, Kuziaev off. This was the fourth substitution for Russia as it was allowed in the extra time.
21:31 hrs IST: For the first time in a World Cup, teams will be allowed to make a fourth substitution in extra time. Both teams have already used all three of the substitutions allowed in regulation time.
21:27 hrs IST: Spain enjoyed 74 percent of the possession and although Russia are attacking with almost 10 bodies, the 2010 champions are still in the driver's seat with 30 minutes to play.
21:23 hrs IST: It remains 1-1 in regulation time as the Round of 16 matches between Russia & Spain will go to extra time!
21:20 hrs IST: A late chance for Denis Cheryshev but the ball had too much curl and it was well away from the target. 2 minutes remaining in the game!
21:17 hrs IST: Another chance goes begging for Spain as Sergio Ramos heads it over the goal. This is going to the extra time! Or will there be a late twist?
21:13 hrs IST: Huge chance for Andres Iniesta but Igor Akinfeev pulled off a double save to keep Russia in the game. This is good football by the Russian goalkeeper!
21:09 hrs IST: This is just horrible by Spain as they are looking clueless while attacking. They are just getting the ball inside the Russia penalty box but the finishing has been quite below par.
21:04 hrs IST: It's business as usual in Moscow right now. Spain are passing among themselves but there is no end game and Russia are trying to catch them on counter-attacks. However, it remains Spain 1-1 Russia.
21:00 hrs IST: Yellow card for Russia's Aleksandr Golovin as the hosts are looking for the winning goal. This is getting tight for both the teams in Moscow.
20:56 hrs IST: David Silva makes way for Andres Iniesta as Spain look to add experience to their attacking. Around 20-22 minutes remaining in the game.
20:52 hrs IST: An interesting trivia -- Spain have scored in each of their last 23 games in all competitions (67 in total), their longest ever run. Can they do it again today?
20:48 hrs IST: A cross from Nacho finds David Silva but Silva's header from 15 yards was too weak. For Russia, time for a substitution as the in-form Denis Cheryshev is introduced into the game.
20:45 hrs IST: The game is currently moving at a rather sluggish pace and Russia will not complain as they are finally catching up on the possession.Spain 1-1 Russia.
20:41 hrs IST: This is the third game in this tournament where a team conceded an own goal and converted a penalty in the same match
20:39 hrs IST: Another free kick. Another good contact. But no goal this time for Spain as Diego Costa's effort was nowhere near the goal. Spain 1-1 Russia.
20:35 hrs IST: Spain have started on the offensive and they had a good chance but Jordi Alba's shot was too weak to cause any trouble to Igor Akinfeev in front of the Russian goal.
20:32 hrs IST: We are back for the second half. Can Russia pull off an upset or Spain will regain the lead?
20:30 hrs IST: Russia also are the first team to score multiple own goals in a World Cup tournament since 1966, when Bulgaria conceded two.
20:25 hrs IST: Artem Dzyuba has been directly involved in four of Russia's last seven World Cup goals, scoring three and assisting another.
20:17 hrs IST: It's half-time in Moscow! Spain controlled the game but the late Artem Dzyuba penalty means that the teams are tied at 1-1.
20:13 hrs IST: Gerard Pique ended up conceding a penalty for hand-ball and Artem Dzyuba made no mistake from the spot as the scores are levelled in the Round of 16 encounter.
20:11 hrs IST: Artem Dzyuba makes it 1-1 for Russia from the penalty spot!
20:08 hrs IST: Spain still does not have a single shot on target and that is quite odd considering the amount of control they are enjoying at the moment. They are playing quite cautiously and Russia need something fast to claw their way back into the game.
20:04 hrs IST: Pass, pass and pass some more! Spain have the early advantage and they are in no mood in letting it go. They are controlling the majority of the possession and they has hardly been any meaningful attack from Russia till now.
20:00 hrs IST: Spain lead 231-58 in passes! If there was any question on who is dominating the game, the stat should be enough to stop those discussions!
19:57 hrs IST: STAT ATTACK -- In a World Cup which already broke the record for own goals, Ignashevich made it 10 when the ball deflected off his heal and into his own net.
19:53 hrs IST: Isco has been the heart of Spanish attacking today and although he tried to create another counter-attack play, he was brought down by two Russian defenders. Spain lead 1-0.
19:49 hrs IST: Possession is not an issue for Russia, but they have failed to produce any meaningful attack till now. The final ball is missing and the flank play is not wielding the proper results.
19:45 hrs IST: It was a curling free-kick from Sergio Asensio and Sergio Ramos did well to put pressure on Sergei Ignashevich as the ball deflected off him into the back of the net.
19:41 hrs IST: Spain have taken the lead! Sergio Ramos is claiming it, but it seems that it was an own goal from Russia defender Sergei Ignashevich.
19:38 hrs IST: Spain are attacking in packs at the moment with as many as seven players in offensive positions and it is clear that the Spaniards will like nothing more than an early goal in this encounter.
19:35 hrs IST: A positive start by Russia as they are looking to attack through the flanks and a solid run by Artem Dzyuba was blocked by Gerard Pique before the Russian footballer to create a proper chance.
19:32 hrs IST: King Felipe VI of Spain is at the Luzhniki Stadium in Moscow to see the national team play World Cup host Russia.
19:29 hrs IST: Will it be a stunning win for Russia or business as usual for Spain? We are just minutes away from the kick-off.
19:27 hrs IST: Denis Cheryshev, Russia's leading scorer in the competition with three goals, is left out by Stanislav Cherchesov, who makes four changes to the team beaten 3-0 by Uruguay.
19:26 hrs IST: The teams are out in the middle and it is time for the national anthems.
19:24 hrs IST: Andres Iniesta, the hero of Spain's 2010 World Cup final win over the Netherlands, was dropped after he failed to shine thus far and is replaced by Real Madrid's Marco Asensio as one of three changes made by Fernando Hierro. Thiago and Dani Carvajal were also named on the bench with Nacho and Koke handed places in the starting XI.
19:20 hrs IST: Russia coach Stanislav Cherchesov reverted back to his favourite 5-3-2 formation, with three central defenders and Artem Dzyuba as the lone forward.
19:17 hrs IST: Nacho replaced Dani Carvajal at right back in another change from the side which needed a late equaliser to draw 2-2 with Morocco in their final group game.
19:15 hrs IST: Spain left Andres Iniesta out of their starting line-up for their World Cup second round tie against hosts Russia on Sunday.
Spain coach Fernando Hierro decided to field Sergio Busquets and Koke in front of the defence with David Silva, Isco and Marco Asensio ahead of them and Diego Costa as the lone centre forward.
19:10 hrs IST: Starting line-ups:
Russia - Igor Akinfeev (capt), Mario Fernandes, Ilya Kutepov, Sergei Ignashevich, Yury Zhirkov, Roman Zobnin, Daler Kuziaev, Fedor Kudriashov, Aleksandr Golovin, Alexander Samedov, Artem Dzyuba
Spain - David De Gea, Nacho, Gerard Pique, Sergio Ramos (capt), Jordi Alba, Sergio Busquets, Koke, Isco, Marco Asensio, David Silva, Diego Costa
19:07 hrs IST: Welcome all to the live coverage!
The Igor Akinfeev-led side will be heading into the clash on the back of a stunning 5-0 victory against Saudi Arabia in their first group match. They thrashed Egypt 3-1 in their second match before stumbling 0-3 against Uruguay in their last group match.
Spain, on the other hand, had a relatively rough start to the tournament after Coach Julen Lopetegui departed a day before the start of the tournament.
The 2010 world champions played well in their opening encounter against Portugal, but were completely outclassed by the brilliance of Portuguese star striker Cristiano Ronaldo as they ended with a 3-3 draw. They lost their second match 0-1 to Iran before playing a 0-0 draw in their last group match against Morocco.
Despite not being up to the mark in their group matches, the Spanish team will definitely fancy their chances against the hosts but the task is going to be tough keeping in sight the confidence of the Russian squad at home.
Close Story
Personalise your news feed. Follow trending topics