ISL: ATK's sacking of Teddy Sheringham seems as bizarre as his appointment
Updated on Jan 24, 2018 10:39 PM IST
After removing Teddy Sheringham, the most expensive coach in the fourth season of the Indian Super League (ISL), champs ATK put Ashley Westwood in temporary charge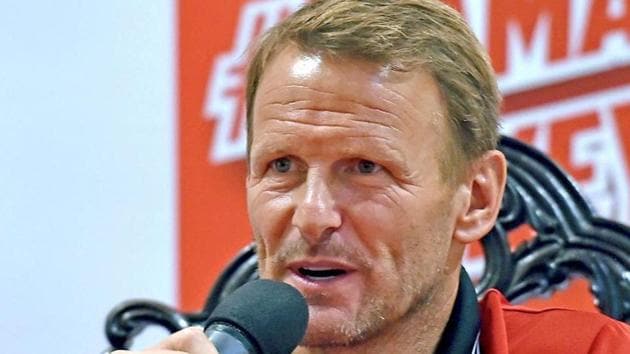 Defending champions ATK's sacking Teddy Sheringham on Wednesday seems to be the culmination of missteps that began with his appointment.
In six months since the former Manchester United and Tottenham Hotspur legend was unveiled, ATK have transformed from being the winningest franchise to one so woebegone that for the first time in four seasons they had to change a coach midstream.
Having won two editions with seasoned handlers such as Antonio Habas and Jose Molina, the Kolkata franchise had pitched for the least experienced one in a season the competition got longer and bigger.
This despite barring Marco Materazzi in 2015 yesteryear stars with little coaching experience not having shone in the ISL. ATK is said to have spent over $500,000 on Sheringham, whose only experience as manager was an ordinary stint in England's third division, making him the most expensive coach in ISL4.
Last July, while presenting him and technical director Ashley Westwood, who has been appointed interim coach, ATK's principal owner Sanjiv Goenka had said the team wanted "winners, people who are used to success…." Three wins, four losses and three draws tell their own story and it is now on Westwood to "inject freshness", get the team to "pull in the right direction" and out of the bottom three. ATK host Chennaiyin FC on Thursday.
With Sheringham in charge, appointing Westwood, whose only full-time coaching experience outside India was an undistinguished stint in Malaysia, as technical director too seemed like a decision born in an off-side position. One where the TD said he was looking forward to learning from the coach. "I will have to be careful of not changing too much too soon," said Westwood after his role changed.
If Westwood was responsible for recruiting Indians in a season where six of them have to be playing, his staying at Sheringham's expense seems like another strange decision.
In 10 games, ATK have scored seven goals, the least along with NorthEast United, and couldn't field the same starting line-up twice. Chennaiyin FC have done that thrice. Sheringham's lack of tactical nous may have been responsible for that as much as the injuries they have been beset by.
Only right-back Prabir Das, wide left Zequinha and midfielder Connor Thomas have played every minute for ATK. The corresponding number for Chennaiyin FC is six. Marquee Robbie Keane, 37, has spent more time recuperating than on the pitch and it explained why Chennaiyin FC coach John Gregory said they had walked the non-marquee route.
"In Teddy's defence, I would say that he lost a lot of players due to injuries. On the other hand, I have a fantastic medical team which has given me a massive problem of choosing a starting 11 for tomorrow and a bench from another 11 and more fit players," said Gregory.
Gregory also highlighted the importance of a good pre-season in keeping players injury-free. Till this term, that would be taken care of by Atletico Madrid. That wasn't the only advantage of having ATM in their corner. ATK got quality replacements such as Henrique Sereno and Dejan Lekic at short notice and a group of Spaniards fronted by Borja Fernandez who ensured that no crisis on the pitch was overwhelming.
It made them, according to Gregory, the Manchester United of the ISL. Unless they have a dramatic turnaround, ATK's season is unravelling like United's in 1974 when Best, Law and Charlton had left and they were relegated.