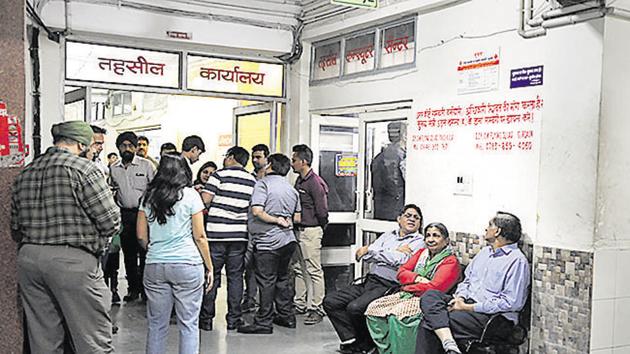 MCG's property tax receipts down by over 60%
The Municipal Corporation of Gurgaon (MCG) collected only
₹
121 crore in property till December 31 compared to
₹
387 crore in 2015.
PUBLISHED ON DEC 31, 2016 10:51 PM IST
The Gurgaon municipal corporation's property tax collection dipped by 68% this year.
The Municipal Corporation of Gurgaon (MCG) collected only ₹121 crore in property till December 31 compared to ₹387 crore in 2015.
The drop has happened despite their being a boost in collection after demonetisation. The Centre had ordered municipal corporations across the country to accept payment of utility bills in the banned currency notes of ₹1,000 and ₹500 from November 8 to December 15.
This resulted in the citizen facilitation centres (CFCs) at Sector 34 and civil lines seeing a large number of people queuing up to exhaust the defunct notes by even paying arrears. The civic body collected over ₹12 crore in this period.
The MCG also tied up with the HDFC bank to receive payment of property tax using net banking, and credit and debit card payments through its official website www.mcg.gov.in in February.
Property tax is a major source of revenue for the MCG and its daily collection averages around ₹4 lakh. Annually, the civic body has earned an average of ₹400 crore as property tax in the last few years.
After the introduction of online assessment and payment of property tax on its official website and hoping for windfall gains post demonetisation, the MCG was expecting to recover over ₹500 crore this year.
Despite the low collections MCG officials, however, remain optimistic.
"The collections in 2015 included a large share of rebate. The same was not the case this year and hence, collection turned out low. The civic body is looking to start the rebate policy in the coming months and collection should cross over ₹200 crores," SS Rohilla, official spokesperson of the MCG, said.
Close