Aladdin fans can't stomach Will Smith's Bollywood-style dance number: 'Cersei wasn't impressed either'
Will Smith's Bollywood-style song-and-dance number, Prince Ali, has only added to Aladdin's woes. Watch here.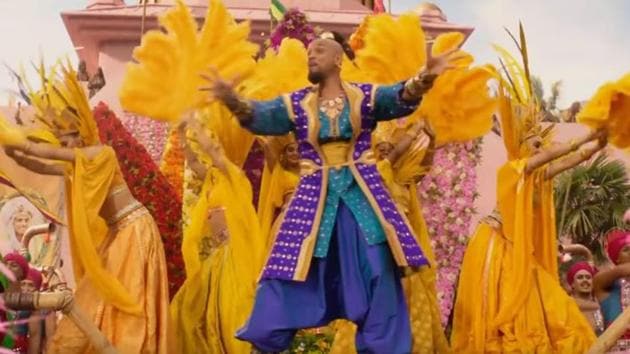 Updated on May 15, 2019 01:52 PM IST
Disney would probably be hoping for a Genie to emerge and grant them three wishes that could erase the public backlash that has been directed towards the upcoming live-action Aladdin remake. After drawing criticism for subpar CGI and a lacklustre trailer, a new clip is going down just as poorly.
Disney on Tuesday released a 30-second clip from the film, featuring star Will Smith performing a new version of the song Prince Ali, in which Aladdin is introduced to the populace as royalty. Fans have taken to social media (and the YouTube comments section) to complain about the brief glimpse.
Several fans expressed surprise at Will Smith retaining his 'human' appearance and not transforming into the blue Genie. They also complained about the lack of energy, and lead actor Mena Massoud's insufficient screen presence. "Something about this feels slow," one commenter wrote. "For instance, the original was very energetic and had a lot of movement, but this has Will mostly standing in one space barely moving."
"I was expecting Genie to shapeshift during this song just like from the animated version," wrote another. One incredulous fan wondered if all the budget has been spent on Will Smith.
"I just don't understand why Disney thought Prince Ali of all numbers should be radiating 'awkward nervous first time as lead role in a play' energy," one fan joked on Twitter, sharing screenshots of the same scene from both the live action and animated films. "Cersei wasn't impressed with the Prince Ali song from Aladdin either," joked another, adding a Lena Headey reaction shot to the video.
Criticism was also directed towards director Guy Ritchie, who is directing a musical film for the first time. "Guy Ritchie is proof you can be married to Madonna for 8 years and come out not knowing how to direct a musical performance," wrote a fan on Twitter.
Will Smith's most recent screen appearance was in Student of the Year 2. He appeared in a 30-second cameo in the film, which will forever be listed on his IMDb page. The actor also has Ang Lee's Gemini Man in the pipeline, Bad Boys 4 and Bright 2.
Follow @htshowbiz for more
Close Story