Feminist calls out War for the Planet of the Apes for no female lines, even from an ape
A feminist has called out Matt Reeves' new film,War for the Planet of the Apes for featuring no dialogues for female characters.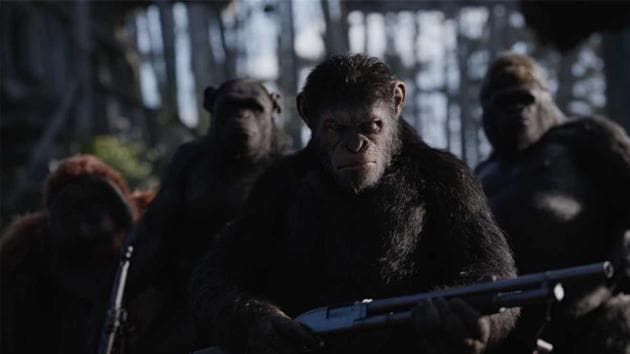 Updated on Jul 17, 2017 07:57 AM IST
Hindustan Times |
, New Delhi
HT Correspondent
A US House of Representative candidate and feminist, Brianna Wu, has expressed her disappointment at actor Andy Serkis' new movie, War for the Planet of the Apes for having no dialogues for a female character.
Wu took to Twitter to share a series of tweets on the film and how it failed include a single speaking role for women in the film, 'not even from a female ape'.
"There is no woman that gets a speaking role in all 2 1/2 hours of #WarForThePlanetOfTheApes. No woman gets any lines. Not even a female ape," she wrote in the tweet.
War for the Planet of the Apes is director Matt Reeves second film in the highly successful and critically acclaimed trilogy.
Wu further said that such sexism even in the films of the new generation is unbelievable to her.
War for the Planet of the Apes goes silent for long stretches where the apes converse in sign language. Two female apes do have prominent roles in the film but they converse in only in sign language, thus not really passing the Bechdel Test (The Bechdel Test is a test for movies introduced by Alison Bechdel in 1985. For a movie to clear the test, it must contain a scene in which two or more female characters with a name have a conversation about anything at all besides men.)
The point was brought up by a few men on her thread:
Wu gave said for the sign to be counted, the character should have had a rich emotional journey:
Even in all of 2016, only a few major film passed the Bechdel Test. According to The Hollywood Reporter, Doctor Strange, The Angry Birds Movie, Sully, Central Intelligence, Kung Fu Panda 3, Star Trek Beyond, Jason Bourne, Deadpool, The Jungle Book, The Magnificent Seven and The Legend of Tarzan all failed the test.
The only few successful ones were Ghostbusters, The Conjuring 2, Bad Moms, Zootopia, Sausage Party, Finding Dory, Suicide Squad, Trolls, Captain America: Civil War, Batman v. Superman, X-Men: Apocalypse, Independence Day: Resurgence and Fantastic Beasts and Where to Find Them.
Follow @htshowbiz for more
Close Story
Personalise your news feed. Follow trending topics