Accelerating climate action with social entrepreneurship
Jan 14, 2023 01:11 PM IST
The article has been authored by Alankrita Khera, director, brand & communications at ACT, a non-profit venture philanthropy platform that focuses on climate action, education, health care and gender inclusivity.
The annual United Nations climate conferences present a valuable opportunity for nations to assess the progress made on addressing climate change. The most recent iteration, COP27, focused on a host of climate action interventions including land rejuvenation, carbon emission reductions across multiple sectors, green hydrogen generation and climate financing.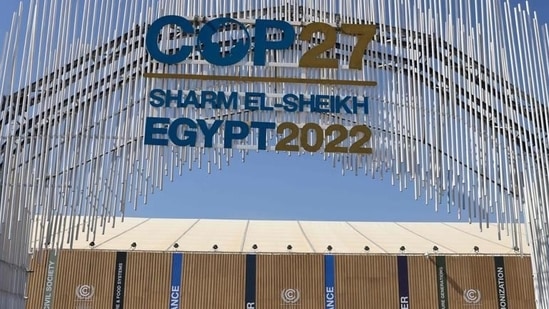 A common emerging theme that emerged from the summit was that most of these interventions addressing the climate crisis would be accelerated through the use of innovation and technology. Each of the problem areas identified in the COP27 agenda calls for out-of-the-box solutions that are guided by an intersectional approach. A combination of tech, innovation and the entrepreneurial spirit has the potential to help countries address these problem areas at scale.
Stay tuned with breaking news on HT Channel on Facebook.
Join Now
Innovation has the power to catalyse climate action through transformative technologies for functions ranging from problem detection to mitigation. Take, for instance, the idea of using satellite imagery to identify air pollution hotspots as a form of hyperlocal intelligence that enables governments to take real time action. Ambee has been an early pioneer of such environmental intelligence but is just one example of a host of startups that are creating new technological pathways towards climate action. Process technology is another field that has myriad climate action possibilities. Innovative pyrolysis solutions, like the one by APChemi which converts mixed plastic waste into feedstock for biofuels, not only solves a critical pollution issue but also provides a second life pathway for otherwise non-recyclable plastics. An emerging application for biotech solutions is agriculture, with solutions like FIB-SOL's microbial product that helps farmers reduce their costs and use of chemical fertilisers while also improving soil quality.
There are many such examples of start-up-led technologies from the domains of biotechnology, Artificial Intelligence and IoT, that are already making their mark in identifying climate action issues and contributing to the solution-making process. The entrepreneurial mindset, risk-taking appetite and bias for action can greatly complement intergovernmental efforts through a focus on driving incremental gains towards creating impact at scale.
Propelling innovative climate tech solutions for widespread deployment requires both financial and strategic support at the right stage. This kind of support is crucial in empowering exemplary innovators to scale their solutions and create much-needed impact across larger demographic pools and geographies. This is where venture philanthropy becomes an important part of the value chain.
Venture philanthropy platforms have the potential to accelerate the pace of change in a way that nurtures social entrepreneurs to meaningfully add value to a country's climate action goals. The model has a superpower that commercial funding may not - the ability to bridge the gap between where an early-stage innovation is right now and where the market needs it to be.
It offers patient capital that sows the seeds for long-term impact
The Adaptation Gap Report 2022 prepared by the United Nations' Environment Programme (UNEP) notes that international financing for climate adaptation projects has slowed down by 5-10%.
One of the major commitments made during COP27 was the streamlining of the flow of climate financing towards spurring sustainable climate action. Tapping into venture philanthropy led grant funding--no-strings-attached financial support that focuses on catalysing early-stage solutions to create climate impact at scale--can greatly aid intergovernmental efforts.
It provides strategic advisory as a form of non-financial support
Strategic advisory support for product development, knowledge management, future-proofing business models and market creation is exceptionally valuable for social entrepreneurs and equally important in catalysing progress. For instance, Farmers For Forests, a non-profit that financially compensates farmers for providing environmental services, has leveraged such support to strengthen their operating model by tapping into the carbon credit markets for long term sustainability and scale.
Expert-led mentorship is another critical component of such non-financial support as it helps climate entrepreneurs strengthen their domain expertise and get invaluable market insight, giving them a 360 degree view on how best to effect the change they've set out to create.
It opens up market access and makes network support available
The venture philanthropy model also gives entrepreneurs access to new markets, fundraising opportunities and strategic partnerships by enabling collaboration across the board with industry bodies, government stakeholders, climate collectives and corporates alike.
Climate start-ups like Brisil, whose solution helps reduce air pollution by converting rice husk ash into green precipitated silica for industrial use, have been able to tap into multiple potential collaborations through access to high profile climate conferences. Such access is key to creating sustainable impact because it moves away from the idea that impact can be achieved in isolation.
Translating COP27 priorities into progress requires collective action from all stakeholders involved. Active participation by the entrepreneurial community, backed by support from the venture philanthropy ecosystem, towards fuelling climate action innovations can contribute significantly to environmental goals. Such participation when combined with targeted intergovernmental and collaborative action can lead to tangible long-term impact locally as well as internationally.
The article has been authored by Alankrita Khera, director, brand & communications at ACT, a non-profit venture philanthropy platform that focuses on climate action, education, health care and gender inclusivity.