17 killed, 16 injured as over-crowded minibus falls into 300-foot deep gorge in J-K's Kishtwar
The 25-seater minibus on its way from Thakrai in Keshwan to Kishtwar, he said. Thakrai is 15 km from Kishtwar town in Jammu region.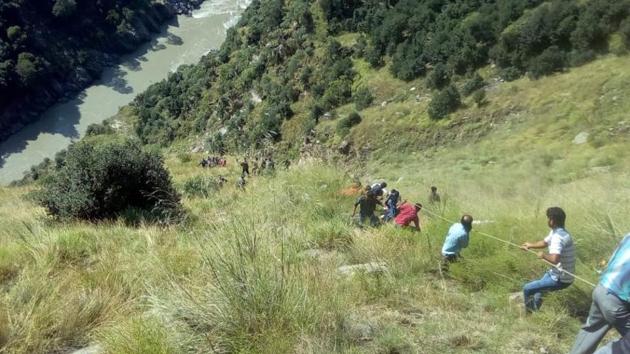 Updated on Sep 14, 2018 11:17 PM IST
At least 17 people died and 16 others were injured, 10 of them seriously, after a 25-seater overloaded minibus plunged into a deep gorge in mountainous Kishtwar district of Jammu and Kashmir on Friday morning.
Kishtwar senior superintendent of police Rajinder Gupta told HT over phone that 13 people had died initially and four others succumbed to their injuries, including one airlifted to Jammu for treatment, taking the death toll to 17.
He said that 11 seriously injured were airlifted to Jammu government medical college and hospital for specialized medical treatment. "Sixteen passengers had died in Kishtwar while one among the 11 shifted to Jammu succumbed to injuries taking the death toll to 17," he said.
The 25-seater minibus was on its way from Thakrai in Keshwan to Kishtwar town when the accident occurred around 8.30 am, he added. A transport department official said that the driver apparently lost control over the steering and the overloaded minibus veered off the road and plunged into a 300 feet deep gorge.
Thakrai is 15 km from the Kishtwar town.
Local people were the first responders to the early morning accident and then police and army were rushed to the spot to launch rescue operations on a war footing.
A defence spokesman said, "On receipt of the information of the accident, Indian Army troops located in the vicinity responded immediately and swung into action to the distress call for rescue operations. All the passengers were evacuated from the deep gorge to the road head by the army troops with the help of locals".
"Indian Air Force MI-17 Helicopter was requisitioned for evacuation of critically injured passengers from the accident site. The injured were flown TO Jammu for specialised treatment," he added.
Kishtwar deputy commissioner Angrez Singh Rana said, ""The next of the kin of the deceased will be given an ex gratia relief of Rs 5 lakh each, while Rs 50,000 will be given to each of the injured persons,".
This is the third major accident in Kishtwar district in the last one month. While 13 Machail Yatra devotees were killed when their cab plunged into a gorge on August 21, seven persons were killed and 12 others injured when two vehicles were hit by boulders a day earlier.
The dilapidated roads in hilly Doda region coupled with official apathy and overloading besides reckless driving by drug addict drivers have made the region a death trap for the commuters.
Former governor NN Vohra, who had a 10 year long tenure in the state, had repeatedly asked successive regimes in the state to check frequent road accidents in the hilly state, especially Doda region.
Former director general of police SP Vaid, who was recently shifted to become the transport commissioner, tweeted this morning, "Major accident near Thakrai on Kishtwar- Shatroo road of Minibus, 13 reportedly died &13 are injured. Feel pained at loss of precious lives. Cause of accident being ascertained, I wish I can do something to prevent this".
Former chief minister Mehbooba Mufti expressed her condolences.
"Heartfelt condolences with the families who lost their loved ones in a road accident in Kishtwar today. Would like to Impress upon the Divisional administration to launch rescue ops on war footing to evacuate the injured and provide them specialised treatment," she tweeted.
Topics
Close Story