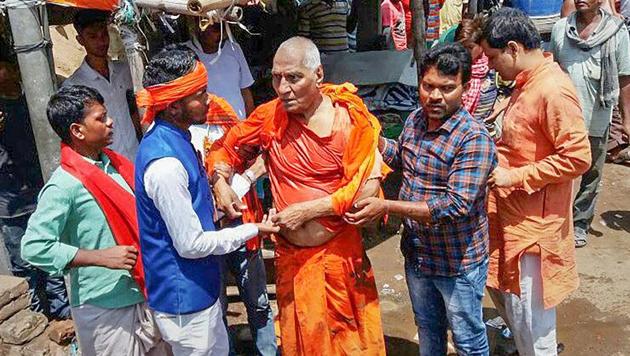 Activist Swami Agnivesh roughed up outside BJP office on way to pay homage to Atal Bihari Vajpayee
This is the second time Agnivesh has been attacked. He was recently assaulted in Jharkhand's Pakur district in Jharkhand when he was on way to attend a public function in a village.
Hindustan Times, New Delhi | By HT Correspondent
UPDATED ON AUG 18, 2018 03:43 AM IST
Social activist Swami Agnivesh was allegedly abused, heckled and assaulted by a group of people, who he said were BJP workers, near the BJP headquarters on Deen Dayal Upadhyay Marg, when he was on his to pay homage to former prime minister Atal Bihari Vajpayee on Friday. A video of the alleged attack was later circulated on social media.
The 79-year-old former Janata Party MP alleged that the attackers called him a "traitor" and his pagdi fell down while they continued pushing and thrashing him for almost one kilometre till he reached close to the BJP headquarters. He also alleged that several BJP leaders and party workers witnessed the assault but no one came to his rescue.
Not a single policeman was on the entire road while I was being abused, thrashed and pushed by a group of 12-14 BJP workers, who wanted me to go back. I was not allowed to enter the party headquarters and I returned without paying tribute to Atalji," Agnivesh said.
BJP leaders, however, denied the allegations. "Our party workers couldn't have been involved in this case. Why would they resort to violence on a day like this?" said Ravinder Gupta, general secretary, Delhi BJP.
Later in the day, his two associates filed a complaint at the office of deputy commissioner of police (New Delhi) and sought legal action and police security for Agnivesh. DCP Madhur Verma said, "The complaint will be forwarded to DCP (central) since the incident took place in their territorial jurisdiction."
Watch: On Vajpayee's final journey, PM Modi and sea of mourners walk alongside the casket
Close