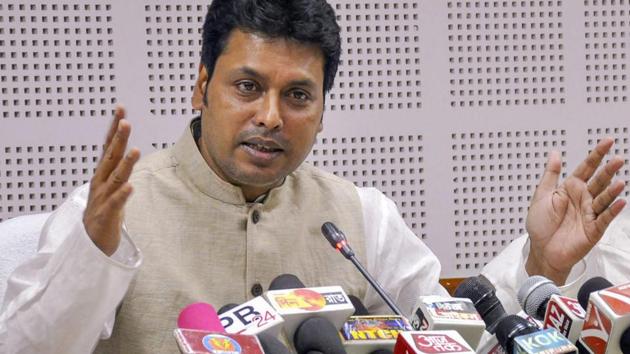 Amul MD backs Tripura CM, says rearing cows best option to solve unemployment in rural areas
Tripura CM Biplab Deb had advised youth that income could be generated by rearing cows, pigs or poultry birds. His comment triggered sharp reactions from critics
Press Trust of India, Ahmedabad | By Press Trust of India
PUBLISHED ON MAY 01, 2018 08:29 PM IST
Days after Tripura Chief Minister Biplab Deb advised youth to rear cows for regular income rather than running after government jobs, Gujarat Cooperative Milk Marketing Federation (GCMMF) chief RS Sodhi on Tuesday came out in his support saying it is a practical suggestion to eliminate unemployment.
Sodhi, Managing Director of GCMMF which sells its products under the 'Amul' brand name, said the dairy sector is very lucrative, providing good income to many educated youths as well.
GCMMF is considered as India's largest food products marketing organisation with a turnover of Rs 40,000 crore.
Recently, Deb had advised the youths that income can be generated by rearing cows, pigs or poultry birds, triggering sharp reactions from critics who slammed his remarks saying the state government should rather talk about generating jobs.
However, Sodhi said that cow or buffalo rearing is a far better option, especially in Tripura, which has to import milk worth crores of rupees every year despite having favourable geographical conditions for dairy sector.
"Deb's advice is a practical one, as Tripura imports milk worth crores of rupees every year. People in Tripura do not have many employment opportunities. If the educated youths of Gujarat and Punjab can take up cow-rearing in a commercial way, what is the harm if youths of Tripura do the same?" Sodhi told PTI today.
"In Gujarat alone, there are around 8,000 commercial dairy farms run by educated youths. There are many state and central schemes to help you in setting up dairy business. Cow rearing is the best option to solve the problem of unemployment in rural areas," Sodhi said.
Earlier yesterday, he had tweeted also to support Deb's remarks.
"It is a very practical and logical idea as Tripura is importing crores of rupees worth milk from other states including Gujarat. A youth can earn Rs 6-7 lakh per annum by rearing 10 cows or buff by taking loan from banks... in Gujarat (there are) more than 8000 such farms," Sodhi tweeted in response to some critical tweets targeted at Deb.
To make his point, Sodhi also tweeted a photo of a woman farmer receiving an award from Gujarat Chief Minister Vijay Rupani and Chairman of Banas Dairy Shankar Chaudhary at a function here for depositing milk worth lakhs of rupees.
"Cow breeding can be a very remunerative business. Today, Kanuben Patel of Banaskantha district of Gujarat was awarded Pride of Gujarat by CM Gujarat and Shri Shankarbhai Chaudhary, Chairman Banas Dairy for pouring milk worth Rs 84 lacs in a year. Good source of livelihood," Sodhi said in his tweet.
He also cautioned that if educated youths do not come into the dairy sector, India may have to import milk like the crude oil.
Asked about his tweets, Sodhi said, "I responded on Twitter as people were making fun of dairy sector, as if it is meant for only uneducated persons. They do not understand that it's a very remunerative business and many educated youths are earning good income out of it. This is certainly a better option than to do a mundane job."
He added that the entire dairy product business in India stands at Rs 6 lakh crore and is growing at a healthy rate of 10-12 per cent per annum, which makes it a good business.
Close