'It's BJP, RSS agenda': Rahul Gandhi on RBI governor Urjit Patel's resignation
Updated on Dec 10, 2018 06:39 PM IST
The Congress said Urjit Patel's resignation as RBI governor is an assault on a democratic institution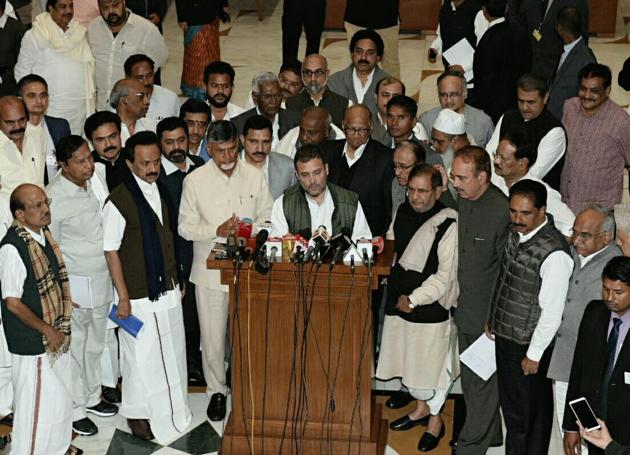 Hindustan Times, New Delhi |
HT Correspondent
Congress president Rahul Gandhi on Monday slammed the government on Monday over Reserve Bank of India Governor Urjit Patel's resignation, calling it the 'continuation of the BJP, RSS agenda''.
"In the middle of the meeting we were told that the BJP, RSS agenda is progressing and that RBI governor has resigned... What is happening that the government is getting desperate, RBI governor is not able to function?", Gandhi said talking to reporters after the Opposition meet in Delhi.
The Congress earlier attacked the government over the resignation, calling it an 'assault on a democratic instituition'.
Within minutes of Patel announcing his resignation, the Congress tweeted, "Another one bites the dust. This is the result of our chowkidar assault on democratic institutions." - RBI Governor, Urjit Patel steps down.
The Congress has earlier also targeted the government over what it calls its efforts to capture the central bank
The party has accused the government of packing the central bank's board with handpicked nominees and making every attempt to push through its proposals
Patel's resignation comes against the backdrop of sharp differences between the central bank and the government over how much autonomy the RBI should have. The government is widely perceived to have sought reduction of curbs on lending and to gain access to the RBI's surplus reserves.
Patel, 55, who took over as the 24th Governor of the central bank on September 5, 2016, had the shortest tenure since 1992.
He was hand-picked by the BJP-led government after his predecessor Raghuram Rajan was denied a second-term.
In his statement, Patel thanked his colleagues at the RBI but made no mention of the government or the Finance Ministry.
"It has been my privilege and honour to serve in the Reserve Bank of India in various capacities over the years. The support and hard work of RBI staff, officers and management has been the proximate driver of the bank's considerable accomplishments in recent years.
Close Story
Personalise your news feed. Follow trending topics